Recreational Small Boat Fleet
Recreational Small Boat Fleet
Sailing Team – Dinghy Fleet
Club 420

Maritime College maintains a fleet of twenty 420's purchased in January 2012. The Club 420 was developed twenty-years ago in response to the growing need for a more durable, high-performance, double-handed racing dinghy that could stand up to the rigors of club and collegiate programs. Ideal for crews ranging in size from 220-310 lbs., the Club 420 is simple and safe for beginning sailors and yet quick enough to keep collegiate All-Americans interested. More than 100 high schools and colleges maintain fleets of 420's (adapted from Vanguard's web site).
Specifications:
LOA: 13'9"
Beam: 5'5"
Draft: 3'2"
Sail Area: 110 Square Feet
Hull Weight: 230 Pounds


Club Flying Junior "FJ"

Maritime College has twelve FJ's. The Flying Junior, "FJ", is sailed by more collegiate sailing teams than any other double-handed sailboat. Also popular as a junior trainer, the FJ is a light, tough, agile performer. Especially popular on lakes and rivers, the FJ tacks and accelerates quickly, making the best use of restricted sailing areas. Its large comfortable bouyancy tanks ensure that the FJ is both self rescuing and safe. With a tough untapered mast, external halyards, and a simple layout, the Flying Junior is suitable for optimist sailors and college All-Americans alike. With over 900 boats in use in club programs today, and more than 100 active college fleets, the Flying Junior is a fantastic choice for clubs, high schools or colleges looking to introduce young sailors to double-handed sailing (adapted from Vanguard's web site).
Specifications:
LOA: 13'3"
Beam: 4'11"
Draft: 3'2"
Sail Area: 100 Square Feet
Hull Weight: 210 Pounds
Sailing Team – Offshore Fleet
King 40 "American Girl"
Too fast for a picture...coming soon
Specifications:
LOA: 39.73'
Beam: 1.14'
Draft: 8.23'
Sail Area: 862.93 square feet
Displacement: 15,653 lbs.
Frers 45 "Crazy Horse"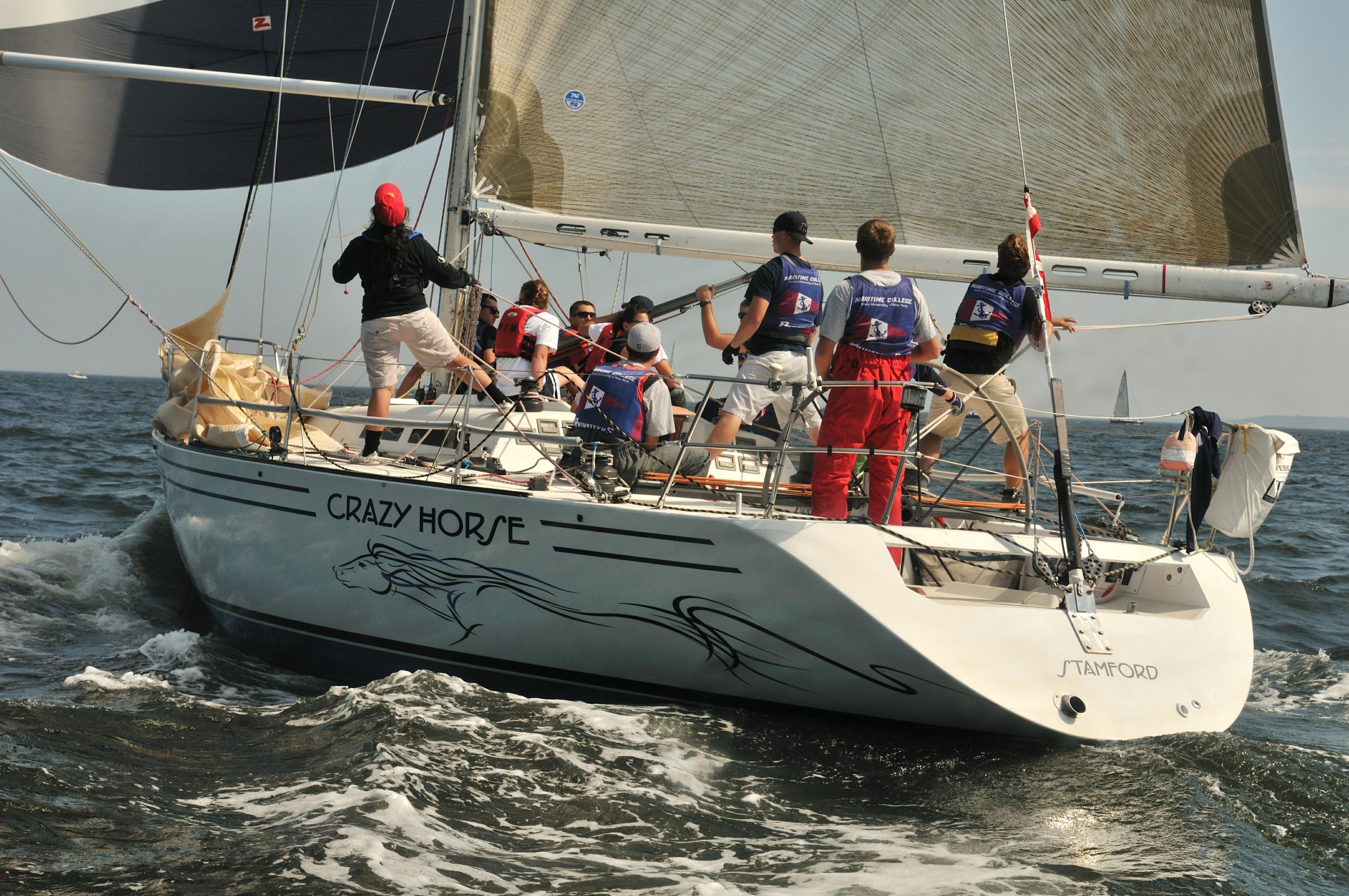 The Offshore Team is proud to race this beautifully maintained boat with a lengthy winning tradition generously donated by Ron Weiss.
Specifications:
LOA: 45'
Beam: 13'9"
Draft: 8'3"
Gross Tonnage: 34 GRT
J105 "Privateer"
Specifications:
LOA: 34.5'
Beam: 11'
Draft: 6.5'
Displacement: 7,750 lbs.
Sailing Training Fleet - Small Keelboats - J24, Sonar and Colgate 26
Through the generosity of donors Maritime College has been able to build a fleet of keelboats with an extensive sail inventory. These boats are the work horses of Maritime's training fleet being used by the sailing team for training, recreationally by the sailing club, for learn to sail programs for students, faculty, staff and the community and in our Maritime Adventure Boat Camp.
Colgate 26
The Colgate 26 is a good all purpose boat that can be used for learn to sail through racing programs. Its roomy cockpit and well thought out layout make it a favorite boat of many. Maritime sailors often compete at the U.S. Naval Academy and the U.S. Coast Guard Academy in Colgate 26 match and fleet racing regattas.
Specifications:
LOA: 25.67'
Beam: 8.5'
Draft: 4.5'
Displacement: 2,600 lbs
IC-24
The IC-24 uses a J/24 hull, rudder, keel and rig with a Melges 24 style cockpit installed. SUNY Maritime College recently converted two J/24s and is looking to build an evenly matched fleet of six IC-24's.
Specifications:
LOA: 24'
Beam: 8.75'
Draft: 4'
Displacement: 3,100 lbs.
Sonar 23'
The Sonar is a popular one-design keelboat that serves a racer and also a comfortable day sailor. It is widely used by many sailing schools and community sailing centers.
Specifications:
LOA: 23.0'
Beam: 7.83'
Draft: 3.92'
Displacement: 2,100 lbs.
Coach/Safety Boats - Boston Whaler Montauk 17
Maritime College maintains and operates a fleet of eight 17' Boston Whaler Montauk coach/safety boats with 70 hp outboard engines. The utility players in Maritime's fleet, these boats serve as coach boats during sailing and crew team practices, safety and mark set boats during regattas, instructional vessels in the hands-on safe powerboat handling courses and any where else a small versatile boat is needed.