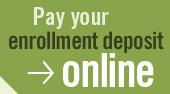 Congratulations and welcome to SUNY Maritime!
To officially become a Privateer, there are a few more steps you need to take. The list, and deadlines, are below.
File your fafsa.
This is how you can be considered for federal and state financial aid, and will help you qualify for Maritime scholarships.
Complete and submit your FAFSA (School code is 002853)

If you have already completed a 2018-2019 FAFSA, update it by adding SUNY Maritime's school code.
May 1
Submit your $100 deposit and Statement of Intention

Log into your Maritime email account upon confirmation of receipt of deposit and statement of intention

The first time you sign in, your username will be your first name, the first three letters of your last name, followed by a period and the last two digits of your incoming year. For example, if your name is Michelle Smith and you first enrolled in 2017, your username will be michellesmi.17@sunymaritime.edu.

Your password will be the first initial of your first name, the first initial of your last name (both capitalized), followed by a dash and the last five digits of your Maritime College ID. For example, Michelle Smith's ID is M00065789, her password will be MS-65789.

If you have problems logging in, contact helpdesk@sunymaritime.edu.

Accept financial aid through Maritime Self Service

Accept your scholarships by submitting your Scholarship Intention
May 18
June 7
June 7, 8, 9
July 16, 17, 18
Attend orientation

These sessions are for students only. An orientation session for parents will be held July 25.
July 17
Submit official high school and/or college transcripts

Regimental students: Last day to apply for a TWIC and/or passport
August 6
Confirm payment of your full college bill and, for regimental students, your uniform and indoctrination payments.

Please note that uniform and indoctrination fees are paid separately from your college bill.
August 15 -25
August 24
Move-in day for new, traditional (civilian) students
August 27
Need Help? Ask!
Email: admissions@sunymaritime.edu
Call: 718-409-7221
Fax: 718-409-7465
Mail:
SUNY Maritime College
Office of Admissions
6 Pennyfield Ave.
Throggs Neck, NY 10465