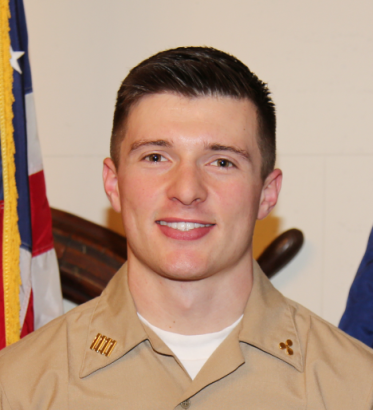 Joseph William Butterworth will receive the State University of New York Chancellor's Award for Student Excellence, announced by Dean of Student Affairs William Imbriale.
"Joseph has excelled in every aspect of his career at Maritime College" said Imbriale. "We are proud to count him among the college's illustrious graduates in the Class of 2019."
During his time at SUNY Maritime, Cadet Butterworth has been actively involved in all areas of the college. Joseph has been a four-year member of the Student Government Association and served two terms on the executive board. Notably, Joseph currently serves his peers as the Student Government Association President. In his role as President, Joseph had fought to improve student life on campus while also creating an avenue for students to voice their opinions. As President, Joseph serves as a member of the College Council, where he is known for improving college life and its mission by encouraging action based on conversations between students, administrators, and state officials.
Within the Regiment of Cadets, Joseph has always served as a role model. He attained leadership positions as a junior and senior serving as both Assistant Adjutant and Adjutant. During his 1st Class Cruise aboard the training ship, Joseph served as a Chief Oil rate. As Chief Oil, Joseph's daily responsibilities included transferring, monitoring and actively overseeing the ship's fuel oil service system. Both positions were integral to the successful management and administration of both underway and shore-side operations.
In addition to his roles within the college, Joseph played quarterback for the Privateers football team throughout his four years at Maritime. During his career, Joseph helped lead the team to its first postseason bowl game in program history as a sophomore. Joseph was honored for his upstanding character and academic prowess as a student-athlete. He attained Dean's List in multiple semesters and was recognized by the Eastern Collegiate Athletic Conference (ECAC) for his academic achievements.
Throughout his collegiate years, Joseph was a member of several groups and committees on campus. These organizations consist of the Student-Athlete Advisory Committee (SAAC), Maritime College Student Philanthropy Council, American Society of Mechanical Engineers (ASME), and the Fort Schuyler Propeller Club. He also works as an office assistant in the Office of Career Services and for the Athletics Department.
In December, Joseph passed all eight modules of his United States Coast Guard Third Assistant Engineer License Exam. Upon graduation in May, Joseph looks to pursue a career in the maritime industry as a marine engineer aboard a vessel. Joseph will graduate with a Bachelors of Engineering in Mechanical Engineering with a minor in Business Management.
Through his accomplishments, Joseph has been thankful for the opportunities SUNY Maritime College has offered him. "No one gets through Maritime alone", shared Cadet Butterworth, "I am thankful for everyone that has supported me during my college career. From my family and friends to the administration and staff, everyone on campus has impacted me in some way and I am proud that I can share this award with them."