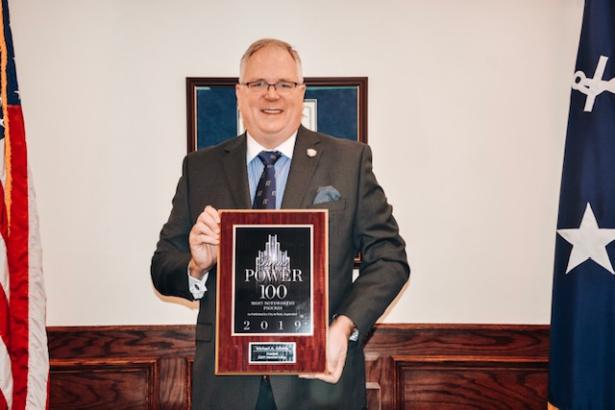 While many college presidents receive accolades throughout their tenure, few are included in the select group of The 2019 Bronx Power 100 as is SUNY Maritime College's own President, RADM Michael Alfultis.
A retired U.S. Coast Guard Captain who was promoted to Rear Admiral U.S. Maritime Service by the U.S. Department of Transportation's Maritime Administration, Alfultis was appointed president of SUNY Maritime College in 2014. Under his leadership, Maritime College is ranked among the top schools in the country for postgraduate pay. His advocacy for merchant mariners and the maritime industry led him to Washington, D.C. in March 2019 where he testified before the House Committee on Transportation and Infrastructure on the importance of maritime academies to commercial and national security. These are but a few of the many accomplishments RADM Alfultis has achieved during his tenure as Maritime College President.
Each year, City & State NY recognizes the most noteworthy figures in the Bronx and President Alfultis now stands among the ranks of some of the most influential politicians, attorneys, police chiefs, executive officers, editors, journalists and college presidents of the Bronx.
Learn more about The 2019 Bronx Power 100.