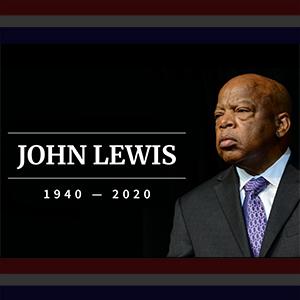 Maritime College joins the country in mourning the loss of one of its greatest proponents of the Civil Rights Movement, U.S. Congressman John Lewis.  The nationally recognized 17-term congressional leader who represented the state of Georgia since 1987, passed away on July 17 at age 80.
Congressman Lewis was the son of a sharecropper and raised in Alabama.  He joined the Civil Rights Movement in its early days after being inspired by the activism of Dr. Martin Luther King, Jr.  A champion of civil rights and advocate of nonviolence, he organized many peaceful protests to advance voter rights in the segregated South.  Through his leadership, and the efforts of other Civil Rights leaders who marched from Selma to Montgomery, the Voting Rights Act was passed in 1965.
While U.S Congressman John Lewis leaves behind an extraordinary legacy of leadership and governance, he will also be remembered for infusing the importance of inclusivity and community in his messages.  "We must continue to go forward as one people, as brothers and sisters," he once stated. 
As we remember this great American hero, we must work to fulfill his vision here at Maritime College.  We must continue our efforts to create an inclusive community wherein all are respected and valued.  As Congressman Lewis said, "If not us, then who? If not now, then when?"  Now is the time to build an inclusive community at Maritime College, and we must all be part of this important work.