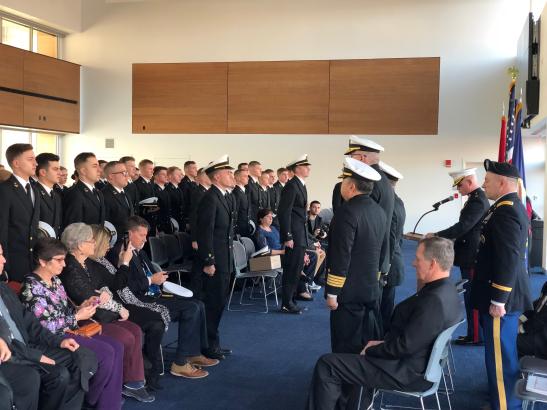 Two SUNY Maritime College students received their commissions into the U.S. Naval Reserves as strategic sealift officers.
In an intimate ceremony surrounded by friends and family as well as faculty and staff from the college and the NROTC program, the two ensigns received their first salutes and the insignia of their new ranks.
Conor Nimmo and Sean McCarthy received their commissions as strategic sealift officers, joining the U.S. Naval Reserves. Both also earned their bachelor's degrees in Marine Transportation and their U.S. Coast Guard third mate licenses at the commencement ceremony later in the day.
The ensigns, their families and members of the SUNY Maritime NROTC Battalion were addressed by Vice Adm. Kevin D. Scott, director of Joint Force Development. Scott holds degrees from SUNY Buffalo, Naval Postgraduate School, U.S. Naval War College and the Joint Forces Staff College. He thanked the ensigns for committing to serve during a time of international conflict and to intertwine their civilian and naval careers.
"SUNY Maritime is a great point from which these men are about to start their careers," said Scott, a Bronx native. "To volunteer to be a citizen-sailor and try to balance family and this commitment is something very special. We will be with you all along the way to make sure you are successful.
"As you begin your civilian career and naval career, make sure you build upon the strengths of each one and bind them together as a rope that can never be broken."
Scott is a naval aviator and has served as an aircraft division officer and maintenance test pilot; commander of the Mine Countermeasures Squadron and commander of Expeditionary Strike Group 2. Onshore, he served as an air combat placement officer with the Bureau of Naval Personnel; military aide to the vice president; current operations chief and division chief of the Joint Forces Command, among other positions.
"You are the future leaders of the greatest military in the world and part of the greatest navy that has ever sailed on the seas," Scott said. "I look forward to serving with you on any sea on any ship anywhere on this planet."