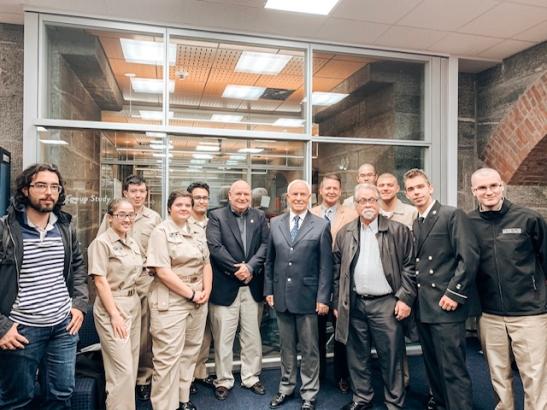 On Thursday, November 7, Maritime College welcomed guest speaker, Vice Admiral Kadir Sağdıç, Turkish Navy (Retired), to the Stephen B. Luce Library Lecture Series organized by Dr. Mark Meirowitz. A graduate of the Turkish Naval Academy and the United States Naval Post Graduate school, the admiral seized various career-building opportunities during his years of active duty, from Commander of the İstanbul Strait to a Strategist at the NATO Headquarters in Belgium. Today, he is a member of the Executive Committee of Kudenfor, an academic forum for maritime matters under the auspices of the University of KOC in İstanbul.
At the event, the Turkish national offered an overview of the rich history of Turkey as a vital powerhouse for the maritime industry, with its seven basins and vast internationally-integrated trade routes. Providing a maritime perspective of the longstanding allyship between the United States and Turkey, he ensured students and professors in attendance that Turkey would continue to be important to the U.S. and its allies due to its central location for trade.
U.S. – Turkey relations have been at the forefront of the political conversation in recent news. A Professor of Humanities at Maritime College, Dr. Meirowitz, provided his expertise on the matter by publishing an opinion piece in Turkish Policy Quarterly prior to the meeting between President Trump and President Erdogan of Turkey. Agreeing with Admiral Sağdıç, he emphasized, "At the end of the day, Turkey and the U.S. need each other."
Read Dr. Mark Meirowitz's article here.