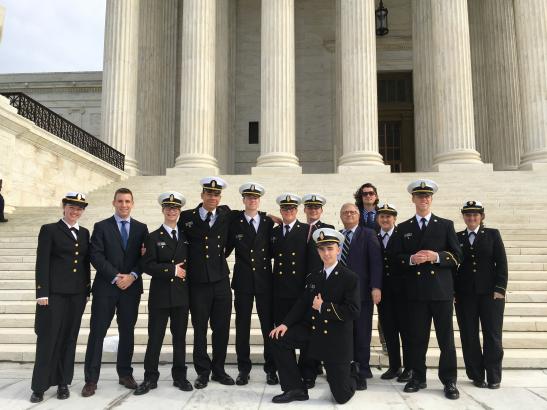 A dozen SUNY Maritime students in the pre-law club recently made a trip to the nation's capital to hear arguments and tour the U.S. Supreme Court and attend a talk with a Georgetown Law.
"This trip was designed to facilitate Maritime students interested in attending law school and to give them the opportunity to experience hearing a case argued before the U.S. Supreme Court," said Dr. Mark Meirowitz, professor of humanities and club advisor. "They heard the tough questions posed by the justices and the responses of the advocates, and had a chance to tour the extraordinary Supreme Court building and learn about its history."
The students heard the nine Justices and teams of lawyers in a bankruptcy case, Merit Management Group, LP v. FTI Consulting, Inc., and then visited with the court's Marshal Pamela Talkin in her offices before taking a tour of the building.
After their day at court, the students attended a talk with Professor Steven Goldblatt, director of the school's Supreme Court Institute. Goldblatt discussed what it is like to argue a case before the Court, the extensive preparation required of advocates appearing before the justices. He also discussed the Merit Management case, which the students had heard argued at the Court, and how to apply to law school.
This is the first time the pre-law club has made the trip to the Supreme Court. The 12 students represented a variety of Maritime's major programs, including two from Marine Transportation; five International Transportation and Trade; and one each from Marine Business and Commerce, Electrical Engineering, Mechanical Engineering and Maritime Studies. They were accompanied by Meirowitz and Dr. Karen Markoe, chair of the humanities department.
"This trip allowed our students to understand in a very real way that some of the most important decisions in our country have been made in this incredible place," Meirowitz said.