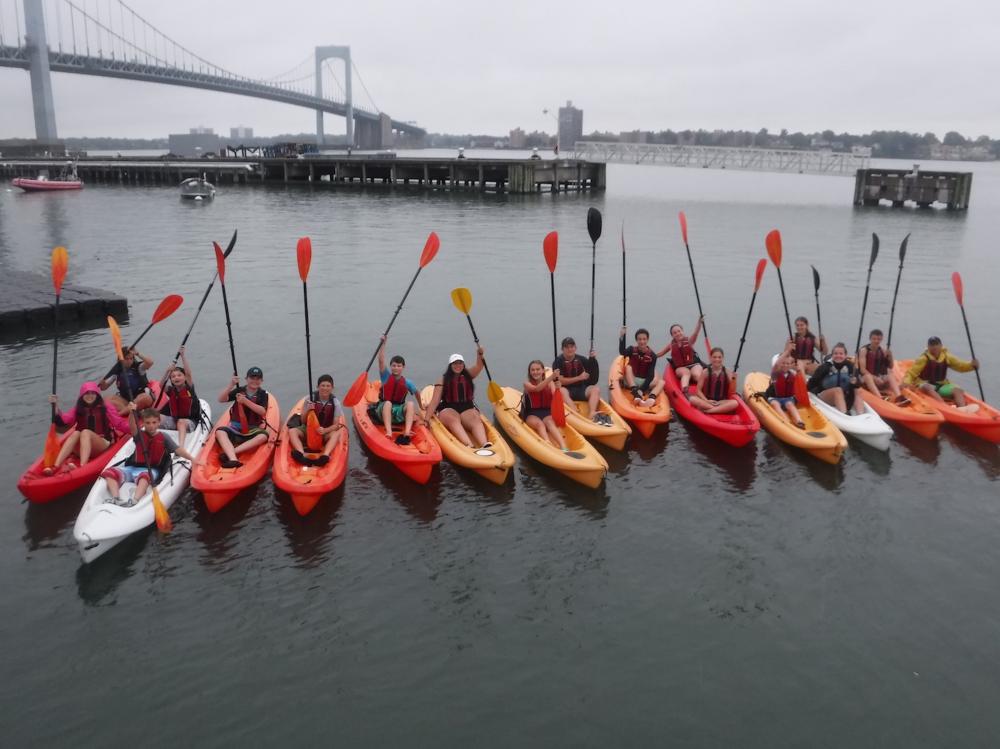 2020 Camp Registration Update
We can't WAIT to get back on the water!  We are monitoring the impact of the COVID-19 pandemic  on our programs and camps. To register, please sign up for the waitlist and we will keep you updated. 
IMPORTANT DATES:
Early registration discount ended @noon, Fri, Feb 28

Registration Balance due & DOH Medical Forms due: Fri, May 1
About Waterfront Camps
Campers make memories and build skills at the Waterfront!
Sail aboard dinghies, catamarans and keelboats with an instructor and your friends as crew

Learn to safely operate a powerboat with hands-on training

Earn your New York State Boating Safety Certificate (10 years old and up)

Try SCUBA diving (*5th grade and up)

Discover marine science

Paddle in kayaks and balance on stand-up paddleboards

Swim, dive and reach for the sky on the climbing wall in the pool. Test your balance and build confidence on the pool log roll

Fish and seine to find marine organisms

Enjoy games and activities that foster self-confidence, communication and teamwork skills
SUNY Maritime Waterfront Adventure Camps are permitted by the NY State Department of Health.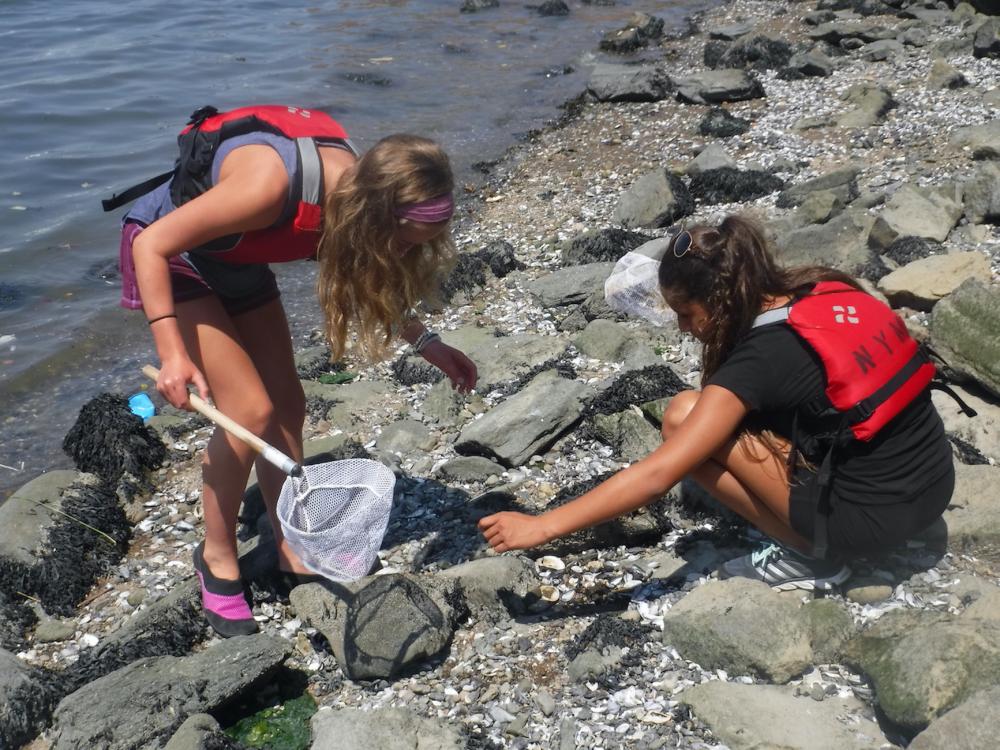 SPLASH CAMP
Splash Camp is for youth entering 3rd & 4th grade in the fall.
1-week program, 9am-2pm. Extended Day available from 2pm-5pm. Campers will get a taste of many waterfront activities! Seven sessions available.

BOAT CAMP
 Boat Camp is for youth entering 5th through 9th grade in the fall.
Choose from three 2-week, 9am-5pm sessions of water-based fun & learning.  Or, sign up for multiple sessions and keep the adventure going all summer long!
Students entering 10th grade and above may apply for our Counselor-in-Training (CIT) program.
Our Staff
Waterfront Adventure Camp is led by industry professionals with more than 75 years of combined experience managing waterfront programming. Camp directors, instructors, lifeguards, counselors and counselors-in-training are specially trained and certified to deliver safe, fun and enriching activities for youth.
Our Facility
Camp activities take place inside and outdoors across the SUNY Maritime College campus, boat basin, on the East River and Long Island Sound.
McMurray Hall: The camp's home base, the waterfront building houses marine and environmental science programming, boating safety course and additional on-shore activities. 
Boat Basin: Campers kayak, stand-up paddleboard, sail, fish, powerboat and enjoy the water trampoline in the basin.
East River: Boating adventures to NYC and into the Long Island Sound start in the East River.
Mess Deck & Quad: Lunch is provided at the main campus dining hall. Color War games and after-lunch recreation take over the grassy Quad.
Riesenberg Gym: The pool, diving boards, climbing wall, log rolling, SCUBA and indoor games are found in the gym.

Our Campers
Our campers return year after year for fun and adventure, and to learn new skills. Whether attending with school mates, or trying out activities for the first time with new friends, our focus is on safety and education. Campers come from all over Bronx, Westchester, Manhattan and Long Island to join in the fun!
Campers are grouped by age and sometimes skill-level at the discretion of staff. Campers may "request a friend" during registration while we also encourage camaraderie and relationship building.
Our Day
Each day is dynamic, packed with learning and adventure. 
Core programming includes:
Skill development in sailing, powerboating, paddling, and seamanship

Lessons about the marine environment and ocean science, fishing and local ecology

Team building, leadership and problem solving through games
Special programming includes:
Boating excursions on the East River

Intro to SCUBA

Water toys and trampoline
No boating or sailing experience required! 
All activities are suitable for beginner, intermediate and advanced skill levels. Swimming is supervised by lifeguards, but we do not offer formal swimming lessons during the camp day. To learn to swim at Maritime, click here.
See camp photos on our Facebook page.
Financial Assistance and Scholarships
The Waterfront is committed to making our programs accessible to all through our updated financial assistance and scholarship program. Families are encouraged to apply for aid, and awards range from 10 to 80 percent of the registration fee.
2020 Financial Assistance Application
Financial Aid is awarded on a rolling basis, space permitting, with priority given to applications received by February 28th.
Former campers entering 10th, 11th or 12th grade are invited to apply for the CIT Program. CITs enjoy the perfect mix of enjoying camp activities while acquiring professional work experience and leadership skills. CITs work alongside counselors under the guidance of camp directors.
2020 CIT Handbook, Application & Policies
CIT Applications are due February 28. Applications will be accepted after this date, space permitting.
Maritime Adventure Splash Camp is a one-week program. Drop-off is at 9am and pick-up at 2p.m.; or add on Extended Day with pick-up at 5pm. Lunch, afternoon snack and all equipment provided.
Maritime Adventure Boat Camp is a full-day, two-week program. Drop-off is at 9 a.m. and pick-up at 5 p.m. Lunch, afternoon snack and all equipment provided.
$400 Deposit due to reserve your space in Boat Camp, $200 for Splash Camp. Balance is due May 1.
Early Registration Discount: $75 off each session of Boat Camp and $50 off each session of Splash Camp if you'd registered by Feb 28.
Session

Dates

Early Registration

(deposit before Feb 28)

General Registration

(deposit after Feb 28)

 

 

Splash Camp

Session 1A

9am-2pm

Extended Day (Optional):

2pm-5pm

June 29 - July 3

 $500

 

Extended Day:

$250

$550

 

Extended Day:

$300

 

 

Splash Camp

Session 1B

9am-2pm

Extended Day (Optional):

2pm-5pm

July 6 - July 10

$500

 

Extended Day:

$250

$550

 

Extended Day:

$300

 
 

Splash Camp

Session 2A

9am-2pm

Extended Day (Optional):

2pm-5pm

July 13 - July 17

$500

 

Extended Day:

$250

$550

 

Extended Day:

$300

 
 

Splash Camp

Session 2B

9am-2pm

 

Extended Day (Optional):

2pm-5pm

July 20 - July 24

 $500

 

Extended Day:

$250

$550

 

Extended Day:

$300

 
 

Splash Camp

Session 3A

9am-2pm

Extended Day (Optional):

2pm-5pm

July 27 - July 31

 $500

 

Extended Day:

$250

$550

 

Extended Day:

$300

 
 

Splash Camp

Session 3B

9am-2pm

Extended Day (Optional):

2pm-5pm

Aug 3 - Aug 7 

 $500

 

Extended Day:

$250

$550

 

Extended Day:

$300

 
 

Boat Camp

Session 1

9am-5pm

June 29 - July 10

$1600
$1675
 

 

Boat Camp

Session 2

9am-5pm

July 13 - July 24
$1600
$1675
 
 

Boat Camp

Session 3

9am-5pm

July 27 - Aug 7

$1600
$1675
 
 
Be sure to register your child based on the grade they will be entering in fall 2020.
Online Registration & Forms: Registration is first-come, first-served. Incomplete registrations will not be accepted.
Deposit & Payment Plan: Deposit required at time of registration for each session/child. Convenient payment plans are available. Balances must be paid in full by May 1.
Financial Assistance: If you are requesting financial assistance, submit your application by Feb 28 for priority and contact the Waterfront for registration instructions.
Waitlist: If the session of your choice is full, you may register online for a waitlist.
For More Information
Email the Waterfront at waterfront@sunymaritime.edu or call (718) 409-2447.
What Parents are Saying
"My daughter has been in a different camp for six years and this was by far the best! Activities, people in charge and campers were all great!"
"My son has attended a lot of different summer camps over the years and has never been this excited about camp before. Thanks for all that you do with these kids every day."
"My son absolutely loved the waterfront camp last year and can't wait to join you again. I've never seen him so happy, bouncing in the door after camp, telling all the stories of what he's been up to with the other campers and counselors."
"Just wanted to say thank you for the wonderful camp experience my son had these past 2 weeks. He said it was the best camp he has ever been to and he can't wait until next year. I also have two younger boys aged 9 and 6 and they can't wait to go to your camp as well. Have a great summer and see you next year."
"This camp is amazing. The staff is so knowledgeable/professional/friendly. I will highly recommend this camp to others. The program, the way it is run, and the activities are to be commended. I will definitely have my nephew attend next year. I am so happy and grateful for everyone's work and dedication to the children. Thank you all."