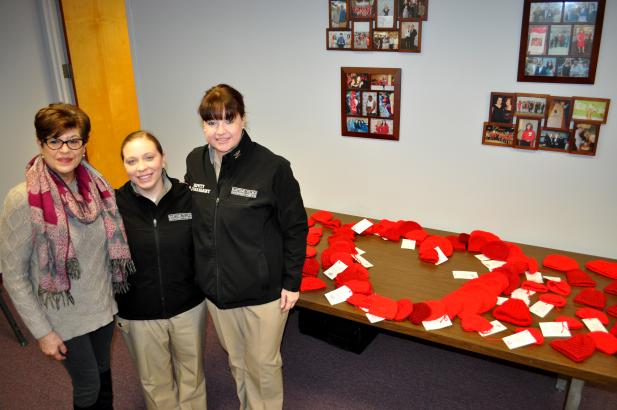 In February, the American Heart Association will distribute tiny hand-made hats to hospitals around the country for babies born with heart defects as part of American Heart Month. More than 90 of those to be distributed on Long Island were made by SUNY Maritime students, staff and parents.
A small but dedicated group of students have formed a club to knit and crochet as a form of stress relief. Lately, their work has found its way to several charities.
"It's nice to know that something we are doing as a break from classes on the weekends is helping other people as well," said Maura Neely, a sophomore Marine Environmental Science major from Maryland. "Making these hats was so fun, and it's a great cause."
In addition to the Maritime students, volunteers from the Maritime Parents Association and the Junior Women's Club of Belrose contributed hats. They made all of the hats in approximately two weeks. Neely said it took her on average about two hours to make each one.
Neely and Capt. Catie Hanft, Deputy Commandant of Cadets and fellow knitter, dropped a box of hats off to the American Heart Association in Mineloa, New York, in January. This is the second year the chapter has participated in the Little Hats, Big Hearts campaign. More than 5,000 hats have come in from around the community.
This is the second time in the past few months that the Maritime knitters have donated their handiwork to a charity. During the holidays, they created and donated scarves to the Seamen's Church Institute Christmas at Sea, which distributes hats to mariners working onboard ships during the holidays.