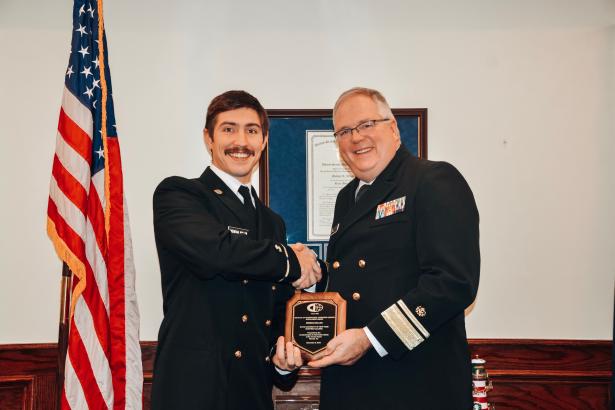 Five Maritime College students were presented with scholarships at the annual Connie Awards scholarship reception on Monday, December 9. Hosted by the Containerization and Intermodal Institute (CII), which was established in 1992, the CII scholarship program strives to promote and support education for the trade and transportation industry. Proceeds from the gala benefit the academic scholarships awarded to those who embody the next generation of promising industry leaders.
To pursue a Connie Award scholarship, students must be working towards a degree in International Transportation Management and maintain a GPA of 3.0 or higher. Students Brendan Mallon (Institute of International Container Lessors), Habtamu Eshete (CII), Marcus Mallon (Metropolitan Marine Maintenance Association Inc.) Breann Rahming (Sandy Hook Pilots) and Maxwell Mandina (New York Shipping Association) were awarded gifts for their academic success and accomplishments.
Brendan Mallon looks forward to graduating in January 2020 and shared, "This award is very meaningful to me, especially because it is from a reputable organization esteemed in the industry. Now that I have reached the culmination of my education, the scholarship is a token for all of the hard work and effort that I have put forth into school."
The event allowed students to network, opening the door to new opportunities. "Both Brendan and I were offered jobs at the Military Sealift Command next fall," exclaimed Maxwell Mandina.
Congratulations to all of the Connie Award scholarship recipients!