May 27, 2020
Q & A Contact Information
Sea Time
License@sunymaritime.edu
Cadet Commercial Shipping
cadetship@sunymaritime.edu
Prerequisites for SST/Cadet Shipping
Dean of Maritime Education and Training: efink@sunymaritime.edu
Student Accounts, Billing and Payments
studentaccounts@sunymaritime.edu
Financial Aid and SST Scholarships
financialaid@sunymaritime.edu
Medical
healthservices@sunymaritime.edu
Registration for SST
registrar@sunymaritime.edu
May 26, 2020
Dear Campus Community,
We are actively working on plans to help the students in our license programs complete their required assessments and sea time, while maintaining the necessary health and safety protocols.
For our May 2020 graduates who still need to complete their licensing assessments in order to receive their degree and license, I anticipate having a plan in place within the next two weeks that will allow only those Cadets who need to complete their licensing assessments back on campus in early July.  Those who complete the assessments will have a July degree conferral date.
For those Cadets who were looking to completing the Summer 2020 Sea Term, the 60-day SST option I presented to you during the May 4 Facebook Livestream is no longer viable and no longer under consideration.  This decision is based on current Federal and New York State pandemic restrictions; the results from the Cadet and Crew/Faculty/Staff surveys; input from the Summer Sea Term Planning Group; and the recent actions by the California, Maine, and Texas A&M Maritime Academies.
 We are now focusing our efforts on planning a 36-day SST before the fall semester.  If this is not feasible, we are considering an alternative plan to maximize opportunities for Cadets to take full advantage of the inport maintenance and watchstanding days allowed by the U.S. Coast Guard to reduce the number of sea days needed for SST-2021.
I will keep you apprised as we finalize the details of these plans.
Stay well.
RADM Michael Alfultis, USMS, Ph.D.
President
State University of New York, Maritime College
May 18, 2020
Dear Maritime College Community,
I have spent the last several weeks sharing and clarifying our planning efforts and the three options for the Summer Sea Term (SST).  Almost 11,000 people viewed the two Facebook Live Streams. During last week's session, I provided responses to over 50 questions we received from students and parents.
I know you also have questions about the Fall Semester: What is the actual schedule for the fall?  When will classes start?  Will there be on-campus classes, and if so, what preparatory measures are being taken to ensure social distancing?  Here is what we know to date:
Fall Academic Schedule 
Whether or not an SST is conducted this summer, the Fall Semester Academic Schedule is as follows:
Aug. 24                 Faculty Obligation Begins
Sept. 8                  First Day of Classes
Oct.  12                 Columbus Day – No Classes
Nov. 25-27           Thanksgiving Break – No Classes
Dec. 11                 Fall Classes End
Dec. 14-19           Final Exam Week
The Spring 2021 Semester Academic Schedule will depend on what SST Option we execute.
Please refer to the Maritime College Calendar for other dates associated with the fall semester (e.g., student accounts, financial aid, class withdrawal, housing, etc.).
Fall Plans
While we are planning to conduct classes on campus this fall, in order for this to occur we are required to submit a Campus Re-Opening Plan to SUNY for approval.  This plan must be developed in coordination with our Regional Control Room Leaders.
To support our planning efforts, I have established three working groups under the Planning, Budgeting, and Assessment Committee: Academic Planning, Campus Operations, and Student Life and Enrollment Management.  These groups are charged with reviewing the preparations and measures that will be implemented in order to safely resume classes and activities on campus this fall.  They will also participate in contingency planning in the event conditions in the downstate region of New York do not allow us to re-open and resume on-campus instruction.  All faculty are urged to spend the summer planning to deliver their courses through remote instruction/distance learning in the event we cannot resume on-campus instruction this fall, or we need to move classes to a distance learning format for a portion of the fall semester.  
Please continue to check your email, the College's website, and social media posts to ensure you have the latest information regarding SST and the fall semester.
All the best,
RADM Michael Alfultis, USMS, Ph.D.
President
State University of New York, Maritime College
May 4, 2020
Sea Term Options - Facebook Live Presentation
On the evening of May 4, Admiral Alfultis presented a flexible Sea Term plan consisting of the following options:
Summer 2020-Winter 2021 Split Sea Term

36-Day Summer 2020 Sea Term, followed by 120-Day Summer 2021 Sea Term

No Sea Term in 2020, resulting in 140-day Summer 2021 Sea Term
Those who were unable to join the session may access the slides to Sea Term Options Presentation. The audio presentation is available on the Maritime College Facebook page. 
April 27, 2020
A Message Regarding Sea Term from RADM Michael Alfultis
Dear Students,
Now that final exams are over and we're nearing the end of the semester, I know many of you are probably wondering what's next.  Will there be a Sea Term and if so, when?
I have met with the Academic Council and President's Cabinet in a joint meeting to discuss viable options for a Sea Term.  Last week I also met with the Admiral's Student Leadership Council to discuss and understand their concerns regarding Sea Term. 
In truth, there is no simple or perfect solution, but I want to assure you that we have worked diligently to develop the most reasonable option that safely allows students to get the sea time they need to graduate.  We have developed a plan based on three options that allows us the flexibility to plan and implement a sea term. This is all contingent on the status of the COVID-19 crisis, and associated Federal and/or New York state mandates.
We will provide more specific information regarding our Sea Term plan and these three options on Monday, May 4.  In addition, please join me on Monday, May 4, at 7:30 p.m. on Facebook Live as I present the College's Sea Term plan.
Our goal in developing this plan is to present the best pathway to degree completion. I hope you will tune in to learn more.  ​
RADM A
April 24, 2020
A Message from the Offices of Financial Aid and Student Accounts
Dear Students,
We write to provide an update regarding the College's plans to address billed charges relief to all students impacted by the COVID-19 pandemic.  As we continue to navigate the unprecedented impact of COVID-19, Maritime College remains committed to the physical and financial health of all students.
In continuing to work through federal and state mandates, we have developed a formula for pro-rated monetary remittances based on a calculation for the period between March 19, 2020 to the end of the Spring 2020 semester.  The remittance will come in the form of a refund for the Spring 2020 semester or a credit adjustment to the Fall 2020 semester cost.
Remittances will be specific to each student and we anticipate all adjustments to be applied to all eligible accounts within 3–5 weeks.
All continuing students will receive a refund check for the Spring 2020 semester.  Refund checks will be printed and mailed to students once all adjustments have been made.  Continuing students may choose to have the refund applied as a credit to their Fall 2020 charges.  If they elect this option, they must notify the Student Accounts Office (studentaccounts@sunymaritime.edu). 
All graduating students will receive a refund check.
Below are the affected groups of students and the charges that will be updated on their accounts:
Residential students who lived on campus prior to the COVID-19 health crisis, will receive a refund or credit for room and board. 

Commuters who utilized a meal plan prior to the COVID-19 health crisis, will receive a refund or credit for the unused portion of their meal plan.

All students will receive a pro-rated refund or credit for both the Student Athletic Fee and Student Activity Fee (the Student Association reserves the right to make the determination for this fee).
To be eligible for a pro-rated refund on billed charges, students must have: 
Paid their bill in full (students with partially paid bills will have their room and board charges reduced in-line with the timing calculation).

Properly removed all of their belongings from the residence hall and returned their key by the end of the adjusted housing period, March 19.
Please contact us with any questions or concerns related to financial aid and/or how the refund impacts your financial aid for the Spring 2020 semester or the Fall 2020 semester.  Email financialaid@sunymaritime.edu or schedule a Zoom call with any Financial Aid Administrator.
For questions or concerns related to your student account and/or the refund/credit process, email studentaccounts@sunymaritime.edu or schedule a Zoom call with any Student Accounts Administrator.
Be well and stay safe.
Office of Financial Aid
Office of Student Accounts
April 9, 2020
A Message to Students from RADM Alfultis
Dear Students,
We hope you are staying safe and making every effort to complete your coursework remotely.  While the past few weeks have been challenging for all of us and an abrupt adjustment to distance learning became necessary, we encourage you to remain focused as we reach the final weeks of the Spring 2020 Semester.
Within the months of April, May and June, several dates and deadlines have been scheduled for Fall Semester housing and registration, as well as final exams, Degree Conferral and Summer Ashore Terms. Below is a schedule of these important activities by date:
April 17 - Deadline for Housing Applications for Returning Students

April 20-24 - Final Exams

April 24 - Last Day to Register for Fall Semester without a Late Fee

May 22 - Spring Degree Conferral Date

May 4 - June 26 - Graduate Summer Ashore I

May 18 - June 19 - Undergraduate Summer Ashore I

June 22 - July 24 - Undergraduate Summer Ashore II

June 29 - August 21 - Graduate Summer Ashore II
REGISTRATION IS OPEN FOR SUMMER ASHORE I AND II.  All Summer Ashore courses will be offered via distance learning format.  All students are encouraged to register for Summer Ashore courses in order to mitigate any current or future impacts of the COVID-19 crisis on their academic standing.  We continue to assess which courses need to be taught this summer to facilitate students' progress towards degree completion.  Please continue to check the course offerings for Summer Ashore I and II throughout the spring. 
Tentative dates for Sea Term, Fall 2020, and Spring 2021 will be announced in early May.  Regardless, students will be able to complete Summer Ashore I prior to any sea term that may be scheduled this summer.
Please know that our priority is to ensure each student's continued progress towards degree completion, and we will continue to work towards helping each student successfully complete their required courses, especially through these tough times.​
RADM Alfultis
April 6, 2020
A Message to the Graduating Class of May 2020
Dear Class of May 2020,
I hope that your transition to distance learning, this your last semester at Maritime, has been a success, and that you and your families are staying safe and healthy.  Many of your courses are on their way to being completed by the end of Final Exam Week.  However, even with the accommodations that the USCG has given us for our license courses and the innovative ways your instructors have been delivering labs, field work and design courses, there are still a number of courses that will require some form of in-person assessments – something that we cannot offer on-Campus in the remaining weeks of this semester.
In an effort to maximize the number of graduates who will be receiving their degrees and USCG licenses this May, we are moving the Degree Conferral Date from Friday, May 1, 2020 to Friday, May 22, 2020.  Hopefully, this will give us two to three weeks after Finals to try and bring small groups of May 2020 graduates safely to Campus to complete their in-person assessments.  Students not graduating in May 2020, will have an opportunity to complete their assessments over the summer, during pre-Cruise or at the start of the Fall semester.
Based on some questions we have received, there appears to be some confusion regarding your degree conferral date versus commencement.  While we have been forced to postpone the date of commencement, all students who have completed all requirements for their degree by May 22 will receive their degree effective May 22.  All students who complete all requirements for degree and license by May 22 will receive their USCG license credentials effective May 22.  Although the USCG National Maritime Center is currently facing staffing shortages which may affect when your license credentials are issued, we are continuing to work with the USCG to endeavor to have your license credentials ready for the May 22nd Degree Conferral Date.    
We know some of you are facing challenges to complete all requirements for your license, including completing STCW assessments for some license courses and inability to take USCG license exams while the Regional Exam Centers remained closed.  We are working with the Coast Guard and MARAD on temporary measures aimed at permitting the class of 2020 to satisfy their license program requirements and graduate in as timely a fashion as possible.
Please note that if you have completed all of your degree requirements and are starting a shore-side job after May 1st, but before May 22nd, we will be happy to provide your employer with a proof-of-degree-completion letter.
I wish you a successful completion of your academic careers here at Maritime College, and although there will not be a commencement ceremony this May, we hope to recognize your accomplishment at a commencement ceremony for you and your families in the months ahead.  In the meantime, please know that we are all very proud of your great achievements!
Best regards,
Dr. Joseph C. Hoffman
Provost and Vice President for Academic Affairs|
State University Distinguished Teaching Professor
Professor of Mathematics and Computer Science
SUNY Maritime College
Degree Conferral Letter to Spring 2020 Graduating Class
april 2, 2020
Sea Term Update
As the nation responds to the COVID-19 pandemic, we are constantly evaluating our options for providing the best hands-on education that meets and exceeds federal and international training standards and days-at-sea experience.  We had initially announced that the 2020 Summer Sea Term would not depart as scheduled on May 4th, and that we were evaluating two possible scenarios.  First, adjusting the Fall Semester academic schedule to allow delaying the start of a 100-day Summer Sea Term to May 25th.  The second scenario would be conducting a 100-day Sea Term during the Fall Semester.
Given the Federal government's recent extension of its social distancing guidelines to April 30th, we no longer believe it is possible to implement a 100-day Summer Sea Term commencing on May 25th.  We continue to follow the most up-to-date guidance from Federal and State public health authorities, and, as of now, we are unable to set a new date for sea term nor a revised itinerary.  
We are pleased to announce that the U.S. Coast Guard has responded to concerns raised by the Consortium of State Maritime Academies, and is allowing several accommodations relative to sea time for the Classes of 2020 and 2021.  Our Sea Term Planning Committee is assessing the impact of these accommodations on the required sea time for the Classes of 2020 and 2021, and hence the length of Sea Term.  There are multiple scenarios being considered in an effort to ensure our students receive the required sea time with the best possible hands-on learning experiences while minimizing any delay to their eventual licensing and graduation.  All of these scenarios impact the Fall 2020 and Spring 2021 academic calendar in some way.  Our goal is to make a decision prior to April 20th and communicate the decision to the campus community​.

​While the situation continues to be highly fluid and complex, we will endeavor to keep the Maritime College community as well informed as possible.
march 27, 2020
A Message to Alumni from RADM Michael Alfultis
Dear Maritime College Alumni,
I hope this message finds you and your families well.   These are undoubtedly trying times with much uncertainty, but I thought I would take a moment to update you regarding the measures we have taken at Maritime College in the wake of the Coronavirus (COVID-19) pandemic.
ACADEMICS, RESIDENTIAL LIFE, AND STUDENT AFFAIRS
Two weeks ago, the number of cases in New Rochelle (Westchester County, New York) and Long Island were increasing exponentially.  As we were in the epicenter of this pandemic, I made the decision to request all students vacate the residence halls, cancel/postpone all on and off campus activities, and take an academic pause on the week of March 16th to allow our faculty to transition as many courses as possible to distance learning modalities.  This includes online synchronous and asynchronous classes, video teleconference, email, conference calls, or any combination of these modalities. 
All of our students were able to return home safely or make arrangements to live off campus, and on Monday, March 23rd, we resumed classes through distance learning.  There are some courses such as labs and STCW courses that will need to be completed on campus once it is safe and restrictions for face-to-face instruction are lifted.  We are working to ensure our students have access to the essential academic services they would normally have on campus to include academic advisement, IT support, tutoring, counseling, and athletic support.
Among the many events we had to postpone to a later date was the Spring Commencement Ceremony scheduled for May 1st.  The spring degree conferral will be postponed to a later date in May to allow students more time to complete any remaining degree requirements.  We plan to hold a Commencement Ceremony sometime in September for all students with May, July and September degree conferrals.
SUMMER SEA TERM
Considering the State Department's issuance of a Level 4 Advisory (no international travel), which led to SUNY cancelling all Summer Study Abroad programs, we have decided it is no longer prudent or realistic to plan TSES departing on May 4th for the Summer Sea Term.  A 100-day Sea Term in 2020 must be completed and there are two possible scenarios currently being evaluated.  As there are too many unknowns at this time, a decision on which scenario we will execute will be made by mid-April.  
LOOKING AHEAD
Not all is lost in these challenging times.  We are pleased to share with you a new date for the Admiral's Dinner, which has been rescheduled to Tuesday, September 22, 2020.  The time and venue (Marina Del Rey) remain the same and I look forward to seeing you there as we celebrate the honorees and come together to offer much-needed support to our students.  The economic impact of COVID-19 is likely to have a negative impact on many of our hardworking students from less affluent communities.  As these students and their parents lose work, they will struggle to meet basic financial needs with tuition, the Sea Term and books becoming unattainable luxuries.  The College's limited scholarship budget will not be sufficient to allow these students to remain enrolled, and their dream of a Maritime College education and career may be postponed or lost completely.  Now more than ever, our students need the "one hand" of our alumni.   
We continue to navigate these unchartered seas, make adjustments based on a rapidly-changing situation, and will keep you apprised as we go along.  In the meantime, please be safe.
All the best,
RADM Michael Alfultis, USMS, Ph.D.
President
The State University of New York Maritime College
MARCH 25, 2020
A Message from Student Affairs
We want to let you know that the entire Student Affairs Division remains available to you remotely to help you through the end of this semester and beyond. Some of the things we are doing include: 
Online Tutoring Assistance
Visit the Porthole, Luce Library website, or email Ms. Maranda Miller, Asst. Director for Learning Support, for more information.  
Tele-Counseling and Mental Health
Email Ms. Christine D'Amico, Mental Health Counselor, to set up counseling sessions via Zoom. Cdamico@sunymaritime.edu
Résumé Review and Internship Assistance
Email Ms. Christina Melendez, Internship Coordinator for help with job and internship searches. 
Health Programs and Education
Email Brian Wilkow, Director of Health Services, for questions about Coronavirus and other medical concerns while you are away. If you have been diagnosed with COVID-19, please contact Mr. Wilkow immediately.
Academic Advisement
Your LEAD 101 Advisors and Dr. Sherill Anderson, Assistant Dean, remain available to you should you need any assistance with academic support, registration, or online class concerns. 
Athletics Support
Student Athletes should reach out to their coaches for ongoing programs and maintaining connection with their teams. 
Veterans' Services
Veterans and dependents should contact Major General Wolf, Veterans Affairs for assistance and support. 
Title IX Support
Students can email Mary Zottoli, Title IX Coordinator with any questions or concerns as they pertain to Title IX, sexual violence, discrimination, or other concerns. Mzottoli@sunymaritime.edu 
IT Support
If you are having difficulty accessing online materials, cannot access internet or technology needed to complete your courses, please contact the IT help desk at helpdesk@sunymaritime.edu or by phone at 718-409-6917. SUNY also has a variety of resources available through the Open SUNY Helpdesk. 
Check your email and log on to the Porthole for more updates and detailed information. You may also follow @mc_studentaffairs on Instagram for updates, programs, resources and more. Also, email Dean Imbriale (wimbriale@sunymaritime.edu) or Dean Romeo (aromeo@sunymaritime.edu) with general questions or concerns.
We look forward to continuing to work with you, wherever you are!
Division of Student Affairs
March 23, 2020
A Message to Students from RADM Michael Alfultis
Dear Students,
I know many of you have questions and I know uncertainty is causing a great deal of anxiety for many of you.  We know you have been waiting patiently to receive information from the College regarding completing the Spring Semester, graduation, Sea Term, and credit/reimbursement.  Thank you for allowing us the time to work closely with SUNY, carefully deliberate and prepare plans for the remainder of Spring and Summer 2020.  Below we have provided the status as it pertains to each category.
Completing the Spring 2020 Semester
First and foremost, the best thing you can do is focus on completing the Spring Semester in the best possible academic position.  For those of you in license programs, we have received some good news from the Coast Guard.  They are going to allow some flexibility with regards to completing STCW assessments embedded in your courses.  ALL STUDENTS, AND PARTICULARLY STUDENTS ENROLLED IN OUR LICENSE PROGRAMS, SHOULD CONFIRM WITH THEIR INSTRUCTOR THE EXPECTATIONS FOR COMPLETING THEIR SPRING 2020 COURSES.  In addition, each student should be interacting with each of their instructors on a regular (at least weekly) basis.  You should plan on continuing "class meetings" according to your Spring 2020 class schedule. 
Final Exam Week will be held as scheduled from April 20-24.  Again, you should confirm with your instructor their plans for a final exam or final cumulative activity.
For those courses that will have pending assignments that must be completed face-to-face, the College is currently planning on a one to two-week "make-up" as soon as it is possible to continue face-to-face instruction on campus.
Graduation
Please remember, your degree conferral date can be (and often is) different from the Commencement Date we use to celebrate our students' completing their degree requirements.  Considering the Governor's recent signing of the New York State Pause executive order, it is unlikely that we can hold our Spring Commencement ceremony on its scheduled date of Friday, May 1st.  We will likely postpone our spring degree conferral date to later in May to allow more time for students to complete any remaining degree requirements.  Our other degree conferral dates will remain as schedule: July 1st and September 25th.  Our current plan is to hold a Commencement Ceremony on Friday, September 25th for all students with May, July, and September degree conferrals.   
Summer Sea Term
We must complete a 100-day Sea Term in 2020.  Given the number of shipping companies who are cancelling their Cadet Shipping Programs, this 100-day Sea Term will be our "traditional" 50-50-100 model wherein the 2/c and 3/c will be split into two 50-day split cruises while the 1/c complete a full 100-day sea term.  This will allow us to accommodate the increased number of 2/c needing their sea time. 
Considering the State Department's issuance of a Level 4 Advisory (no international travel for any U.S. citizen), which has led to SUNY cancelling all Summer Study Abroad programs, the increased demand of pandemic mitigation by aggressive social distancing, and measured against the risk of a potential COVID -19 outbreak on board TSES during Sea Term, we have decided it is no longer prudent or realistic to plan TSES departing on May 4th for Summer Sea Term.
We are currently evaluating two possible scenarios.  First, adjusting the Fall Semester academic schedule to allow delaying the start of a 100-day Summer Sea Term to May 25th.  The second scenario would be conducting a 100-day Sea Term during the Fall Semester.  A decision on which scenario we will execute will be made no later than April 17th to allow time for student billing, logistics, and hiring of personnel.  I know many of you will have many questions, but there are currently too many unknowns right now to make a final decision.  I ask that you wait until we make a final decision on which scenario we feel is most likely to be successful.  At that time, we will provide more details.  Until then, again, THE BEST thing you can do right now is focus on completing your courses and finishing the semester in the best possible academic position.
Fall 2020 Registration
Registration for Fall 2020 begins on Thursday, March 26th - as originally scheduled.  It is important that you register for the fall semester as if you successfully completed your Spring 2020 courses. Please work with your academic advisor to create your Fall 2020 schedule and to receive your Alternate PIN for registration.
Credit/Refund of Spring 2020 Costs
In a message to students on March 18, 2020, we provided credit/refund information pertaining to housing.  We have also been working to carefully evaluate the fees eligible for a credit/refund.  All students will receive prorated refunds or credits for certain other fees for services that have been discontinued due to the COVID-19 emergency.  The calculation of the amount of the refund or credit is being determined for each of these fees. 
Credits or refund approaches will be finalized before the end of the spring semester and credited to each student's account accordingly.  We recognize that this is a difficult time, and if you have a critical financial need, please contact Student Accounts (studentaccounts@sunymaritime.edu).
Again, thank you for your patience.  We will continue to keep you informed, and we appreciate your understanding as we navigate these unchartered seas and rapidly-changing situation.
Stay Well,
RADM Michael Alfultis, USMS, Ph.D.
President
State University of New York, Maritime College
March 19, 2019
A Message from Maritime College Provost Dr. Joseph Hoffman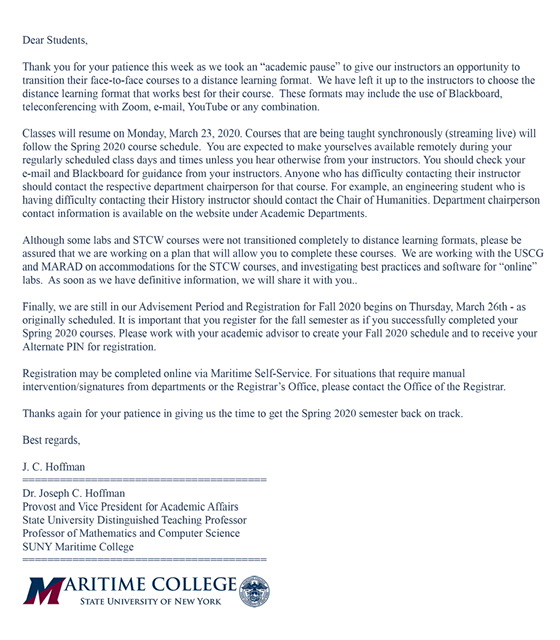 A Message from SUNY Chancellor Kristina M. Johnson, Ph.D.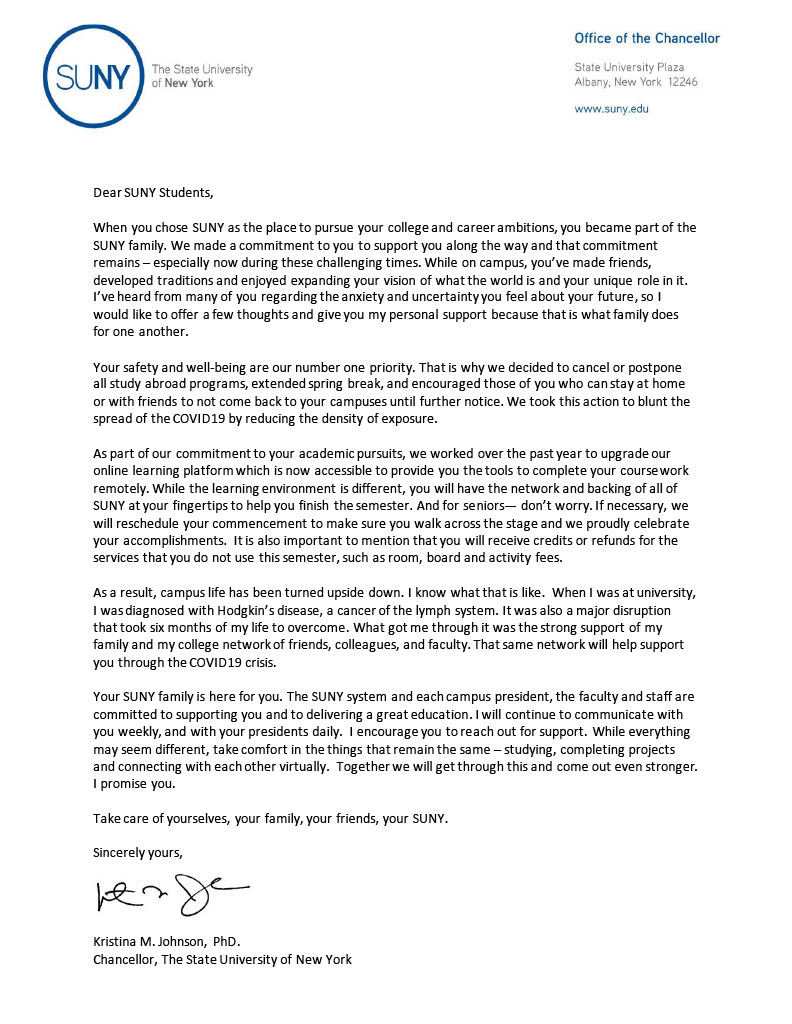 March 18, 2020
A Message to Students and Parents 
Dear Students and Parents,
The health, wellness and safety of our students is our highest priority and Maritime College is taking every measure to ensure students continue to receive a quality educational experience during this time of transition.  
Although there are many courses that can be moved to a distance learning format, other courses do not lend themselves to a remote platform (e.g., science and engineering labs, and certain USCG license courses).  We are currently working with our faculty to develop a plan for completing all spring semester courses, regardless of the modality in which they were taught.  All faculty will be asked to clearly communicate their plan and expectations to their students.
As course work and instruction are moved to distance learning modalities and students depart the campus, we have worked closely with SUNY leadership to develop a refund approach that applies credits and refunds to student account balances.  
Students will be awarded credits for unused housing, room and board. Adjustments to student accounts will be applied at the end of the Spring 2020 semester.
The following credit criteria will apply:
Graduating Seniors - Credits for unused housing, room and board will be provided as a one-time reimbursement for the calculated amount applied at the end of the Spring 2020 semester.

Returning Students - The College will seek permission from each student to apply the credits for unused housing, room and board on the Student Account against the Fall 2020 Full Cost of Attendance.
To be eligible for a credit:
Students must be in good standing according to College specific policies as well as academically.

The student's belongings must be removed from the residence hall location, and the student's room must be approved and cleared by Housing and Residential Life.
Broad-based fees and course fees are being reviewed for credit based on the student's completion of the Spring 2020 semester.  Please know that we are working to carefully review and analyze these various fees, consider the financial aid implications, and apply the appropriate credit/refund to each account.  
Please contact Student Accounts (studentaccounts@sunymaritime.edu) for any questions regarding this policy.
We encourage you to keep safe and continue following all recommended guidelines.
Sincerely,
Scott Dieterich
Vice President for Finance & Administration
March 17, 2020
Information from College Registrar
Due to the cancellation of classes, the last day to withdraw from Spring 2020 courses (with W grade) has been extended to Friday, March 27.
As of today (March 17), Advisement and Registration for Fall 2020 remains as scheduled. Students are required to communicate with their advisor for further instruction. Registration may be completed online via Maritime Self Service. For situations that require manual intervention/signatures from departments or Registrar's Office, contact the Office of the Registrar.
March 16, 2020
COVID-19 Employee Guidance
Essential & Non-Essential Employees
In response to the public health emergency for the COVID-19 virus, this memorandum directs all non-essential employees to not report to work. For the purpose of this directive essential and non-essential employees are defined below:
Essential employees are defined as anyone whose job function is essential to the effective operation of their agency or authority, or who must be physically present to perform their job, or who is involved in the COVID-19 emergency response.

Non-essential employees are defined as anyone who does not need to be physically present to perform job functions, or they are not required to meet the core function and programs of their agency during this emergency response.
At this time, non-essential employees are to work from home and maintain contact with your immediate supervisor. Non-essential employees assigned to perform critical work outside of their normal state workplace is permitted. Employees will not be charged their accruals to fulfill this directive. Anyone designated non-essential shall call your immediate supervisor each day no later than one hour prior to their regular start time, to ensure any change in status can be communicated.   An employee designated from either essential or non-essential may be modified ant any time as the operational needs of the response shift.
Direct Deposit & Paycheck Distribution
To avoid any interruption in the delivery of payroll checks in the event of a closure, it is encouraged that employees enroll in direct deposit. It is easy and convenient to enroll by completing and submitting the attached form along with a voided check to the Office of Human Resources Services. Paychecks dated 3/18/2020 will be distributed today between 3:30 pm – 4:30 pm.  If you wish to have your paycheck mailed please contact the paycheck distribution area at studentaccounts@sunymaritime.edu.    
Employee Testing & Evaluation Protocols for COVID-19
As directed by the attached document, effective March 16, 2020 at 12:00 PM, all state agencies and authorities must abide by the following protocols for employees who report symptoms of illness associated with the COVID-19 virus. Any symptomatic employee should not report to work. As the number of suspected and confirmed cases of COVID-19 increases, all New York State employees must monitor themselves for possible symptoms, such as:
fever,

cough,

shortness of breath, or

respiratory infection/distress.
Any employee experiencing symptoms associated with COVID-19 shall immediately report symptoms to their supervisor and the Office of Human Resource Services to ensure the necessary protocols.
March 15, 2020
A Message from SUNY Maritime President RADM Michael Alfultis
Dear Maritime College Community,
Like many of you, we have been carefully monitoring the situation regarding the coronavirus in our area.  In doing so, it has become evident that offering on-campus instruction is no longer in the best interests of the Maritime College community.  Therefore, we will be taking the following actions this week.
ALL remote and on-campus classes for the week of March 16th are CANCELLED.

Effective today (Sunday), there will be no taps or morning formation.

Effective 0800 Monday, all ship watches are suspended.  Any cadet wishing to voluntarily continue to stand watches or work on the ship should contact Captain McManus.

All students will move out of the dorms, commencing Tuesday, March 17th according to the below schedule.  ALL STUDENTS MUST PROPERLY CHECK OUT OF THE DORMS WITH HOUSING IN ORDER TO BE ELIGIBLE FOR ANY FUTURE CREDIT OR REFUND.  Further details on a refund/credit policy will be forthcoming.      
Move out schedule: 
Tuesday, March 17: A/B and G/H Dorms 

Wednesday, March 18: C/D and E/F Dorms
Students with hardships who may not be able to move out according to the assigned schedule should contact the Dean of Students office. ​
We are continuing to work with our faculty on an academic continuity plan.  Remote instruction will commence Monday, March 22nd.  Faculty will be contacting students regarding the status and future direction of their courses.  
Any student questions related to classes should be directed to the Dean of Students.
All staff are expected to report to work. Additional guidance regarding alternative work arrangements is forthcoming and employees may direct their questions to Human Resources.
I ask each of you to stay safe and healthy.  It is imperative we all continue to practice "social distancing" and good personal hygiene in order to protect ourselves and our families.
These are very fluid and dynamic circumstances, and I know this can lead to considerable anxiety.  ​We will seek to keep everyone as well informed as possible in order to ease some of the anxiety.  Please continue to monitor your email and the Maritime College web site for further updates.
RADM Michael Alfultis, USMS, Ph.D.
President, SUNY Maritime College
March 13, 2020
Maritime College is open, classes are in session and all services are available.
As of today, there are no reported and/or confirmed cases of COVID-19 on campus. 
March 12, 2020
The health and safety of Maritime College students, faculty and staff is the College's highest priority as the College continues to closely monitor the developments surrounding the novel coronavirus (COVID-19). Maritime College communicates daily with State University of New York leadership and local health officials to receive the most recent developments and implement measures according to their guidance, and in keeping with the specific needs of the campus. Updates will be continue to be posted to this webpage.
As of today, there have been no students, faculty or staff on campus who have been diagnosed with COVID-19. 
Directive of NYS Governor
Yesterday (March 11), the New York State Governor directed all SUNY and CUNY campuses to implement plans to maximize distance learning and reduce in-person classes, beginning March 19. The goal is to maintain academic continuity while reducing the density of students on campuses and in classrooms. The Governor stated, "All campuses will develop plans catered to the campus and curriculum-specific needs while reducing density in the campus environment to help slow possibility for exposures to novel coronavirus." 
Classes & Transition to Distance Learning
Maritime College is open and classes currently remain in session. The College will do everything possible to ensure students complete the spring semester successfully.
Plans to transition courses to distance learning is underway. Not all courses, however, can transition to distance learning. Courses associated with the United State Coast Guard as well as lab classes are among the courses that will continue to take place in the classroom at this time. 
The U.S. Department of Education has provided the following definition and guidance for distance learning: 
"To meet the Department's requirements for providing distance education, an institution must communicate to students through one of several types of technology – including email – described under 34 CFR § 600.2, and instructors must initiate substantive communication with students, either individually or collectively, on a regular basis. In other words, an instructor could use email to provide instructional materials to students enrolled in his or her class, use chat features to communicate with students, set up conference calls to facilitate group conversations, engage in email exchanges or require students to submit work electronically that the instructor will evaluate." 
Housing & Meals
Maritime College is not closed and students may remain on campus at this time. All residence halls and dining facilities throughout the campus are open, and students continue to have full access to housing and meals.
The Food Pantry, located outside of the Welcome Center, is available for students who need non-perishable foods and toiletries during hours of operation (Mon. - Fri. 8 a.m. - 4 p.m. and Wed. 8 a.m. - 8 p.m.). 
Student Health Services
Any student who exhibits any signs and symptoms of COVID-19 during campus business hours should visit Student Health Services immediately. If a student presents with a high index of suspicion for COVID-19, Health Services will test for the virus and send the specimen to a laboratory for analysis. Students who need medical attention during off hours should contact their local Urgent Care or hospital or contact UPD at (718)-409-7311. Students are urged to follow good hygiene practices and wash with soap and water. If soap and water is not immediately available, use hand sanitizer. Presently, Student Health Services has not identified any student with the virus.
Sanitation & Disinfection Efforts
The College has also taken a more aggressive approach to disinfecting the campus through daily surface cleaning and electrostatic disinfection.
Health Services, the Weight Room and Reisenberg Gymnasium are cleaned and thoroughly disinfected twice each day with an electrostatic disinfectant machine.

A detailed cleaning of classrooms, Mess Deck, dining hall in Murray Hall, Library, Academic Success Center, Heritage Hall and all other common spaces takes place each evening, as well as electrostatic disinfection of these areas.

Additional hand sanitizing dispensers have been added throughout the campus

The College is fully stocked with sanitizing supplies and equipment (wipes, hand sanitizer, cleaning and disinfecting products) 
Events
As a precaution and in line with local public health department guidance to limit exposure to COVID-19, Maritime College has postponed numerous campus events and cancelled all spring semester community programs. To date, this includes: MUG Ship Weekend, SST Parent's Briefing, Admission's Open House, Accepted Student's Day, STEAM Day, and various professional conferences and lecture series. The College continues to evaluate other events and will make announcements in the event that further cancellations and postponements occur. 
Travel
All study abroad programs for the spring semester have been cancelled

All college-related non-essential international travel for faculty and staff has been suspended
Personal Precautions
Limit the risk of exposure by following these personal guidelines:
Stay home if you are sick

Avoid close contact with people who are sick

Avoid touching your eyes, nose, and mouth

Wash your hands often with soap and water for at least 20 seconds, especially after going to the bathroom; before eating; and after blowing your nose, coughing, or sneezing

If soap and water are not readily available, use an alcohol-based hand sanitizer with at least 60% alcohol
Additional Information and Resources