About the Maritime Museum
A walk through the Maritime Industry Museum at Fort Schuyler brings with it a vivid presence of seafaring in both bygone years as well as today's present era. The exquisitely fashioned ship models, historic artifacts, nautical photographs and prints, and the host of corporate banners identifying exhibits of the respective steamship companies they represent, gives visitors a true sense of being at sea with those individuals who experienced life in the maritime industry, whether afloat or ashore.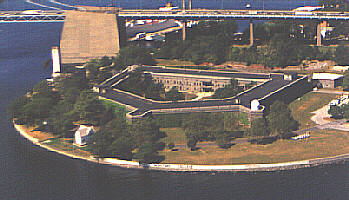 The museum is housed in historic Fort Schuyler on the campus of the State University of New York (SUNY) Maritime College, in the Bronx, New York. Four sides of the fort's irregular pentagon-shaped edifice face Long Island Sound and its juncture with the East River and housed the heavy guns, which formed the fort's original armament to protect this strategic waterway. Two of these sides, partially used as classrooms, are principally dedicated to the museum. Visitors to the museum enter through Fort's sally port, cross St. Mary's Pentagon, and enter the center bastion.
Touring the museum is like strolling through passages of time. The museum offers one of the largest collections of maritime industry materials in the nation and is displayed chronologically. The main exhibit area located on the second floor is entitled "The Evolution of Seafaring" and encompasses the history of seafaring from the days of sail to present-day shipping companies and passenger ship lines. Exhibits in the area include paintings, models of early sailing vessels, clipper ships, turn-of-the-century vessels up to and including the present day, as well as tools and navigational instruments of bygone days to modern times.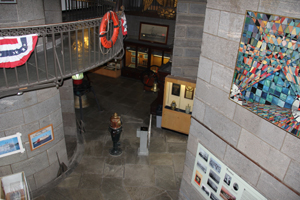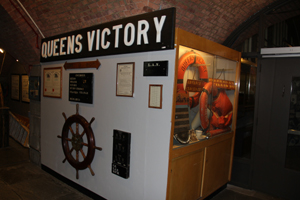 If there is a bona fide case of "labor of love" for a worthwhile endeavor, the Maritime Industry Museum at Fort Schuyler must be recognized as a prime example. The museum is funded, staffed, operated, and maintained primarily through volunteer support and contributions. Many Maritime College cadets volunteer time to serve as museum tour guides and provide exhibit construction and upkeep, while alumni and members of the museum community participate in periodic "work parties" to do their share.
The museum's visiting hours are Monday through Saturday 9:00 AM to 4:00 PM
Admission and parking are free. For additional details, call (718) 409-7218