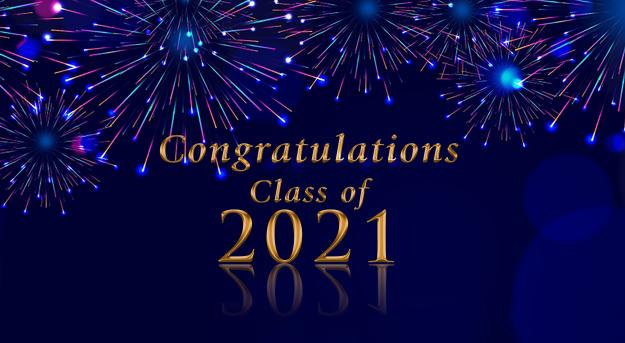 Spring Commencement 2021
Graduation is an exciting time and occasion for which all graduates, their families and friends should be proud. Congratulations to the Class of 2021!
Veteran's Military Recognition Ceremony
The Veteran's Military Recognition Ceremony will be held on Friday, April 23, at 9:00 a.m, in St. Marys Pentagon. Graduates participating in the ceremony will be contacted individually with additional details.
Commencement Ceremonies
On Friday, April 23, 2021, two Commencement Ceremonies will be held in St. Marys Pentagon.
All graduates must check in 1/2 hour prior to their School Commencement ceremony. 
School of Engineering
School of Maritime Education and Training
Commencement Start Time: 11:00 a.m.
View the 11:00 a.m. ceremony via Livestream here
Engineering Majors
Marine Transportation
Marine Operations
Small Vessel Operations
school of business, science and humanities
Commencement Start Time: 1:00 p.m.
View the 1:00 p.m. ceremony via Livestream here 
Maritime Studies
International Transportation and Trade
Marine Environmental Science
All Graduate Degree Programs
Each graduate will be allowed 2 guests only. No exceptions will be made. Tickets will be sent to graduates electronically. Each event will be livestreamed for those guests who are unable to attend in person (livestream link to follow). 
COVID-19 Protocols
NYS outdoor social gathering protocols requires the event to be limited to 200 people; each graduate is strictly limited to 2 guests only.

All graduates and their guests must complete the Campus Clear App (https://www.campusclear.com/) and present the results (electronic or paper) prior to event admittance. 

Temperature checks will be conducted with non-touch thermometers.

Ma

sks are mandatory for graduates and their guests.

Guests must social distance except for members of the same household or party. 

No food or beverages will be allowed.

No tailgating permitted and visitors must refrain from large social gatherings on campus grounds prior to and after each ceremony.
Commencement Attire for Graduates
Cadets
The appropriate attire for cadets is the salt and pepper uniform.  
Officers should wear the appropriate service uniforms. Cadets will be inspected for proper grooming, and those failing to meet grooming standards will not be permitted to participate in the Commencement Ceremony.
Civilians and Graduate Degree Students
The appropriate attire for civilian and graduate degree students is a cap and gown.