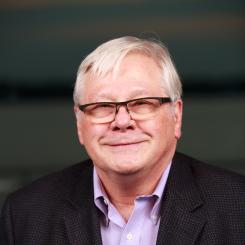 Dr. Richard Burke is an ABS Professor of Naval Architecture & Marine Engineering at Maritime College, with the responsibility to develop new paths for research and teaching in marine-related disciplines. While on sabbatical leave during the 2014-15 academic year, Dr. Burke served as a Presidential Fellow at the Research Foundation of the State University of New York, where he worked to remove barriers and to develop a supportive environment for research at the smaller campuses within the State University of New York system. 
Previously, Dr. Burke has served as the Executive Director of the Maritime College Global Maritime Center for Research, Development, Education, and Training, and he chaired the Maritime College Engineering Department for twelve years.
He holds degrees from Maritime College, the Massachusetts Institute of Technology, and the University of Massachusetts at Amherst. He is a Fellow of the Royal Institution of Naval Architects, and Member of both the Society of Naval Architects and Marine Engineers and the American Statistical Association.
Experience
Prior to returning to his alma mater in 2002, Dr. Burke taught at the Rensselaer Polytechnic Institute, where he also served as Director of the MBA and MS Programs at the Institute's Lally School of Management & Technology. Following a number of years in the shipping and shipbuilding industries, at the United States Salvage Association, Inc., and Mobil Shipping & Transportation Co., he worked at a US Department of Energy R&D laboratory supporting the Naval Reactors Program. In addition, Dr. Burke has consulted widely in manufacturing, new product development, and health care.