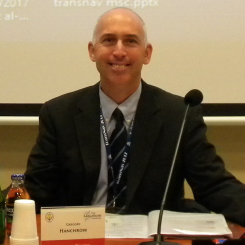 Gregory Hanchrow currently serves as the Senior Port Captain at the Marine Section of the NYC Department of Environmental Protection which operates a fleet of municipal tank vessels. Prior to that he has sailed and worked extensively in many areas of marine operations including passenger vessels, towing vessels, tank vessels and research vessels.  
Captain Hanchrow also serves as an Adjunct Lecturer in the Global Business and Transportation Department of SUNY Maritime College. Topics include Transportation Systems, Port and Terminal Operations, Business of Shipping, and Transportation Management in graduate and undergraduate sections. 
While at Maritime he has been fortunate to have had support of the GBAT department in representing the college at a number of professional conferences. He has written and had peer reviewed papers accepted for publishing and presenting at IMLA 19, IMLA 21, IMLA 23, and ITU 2010. 
Additionally, Mr. Hanchrow maintains the following USCG licenses. Master Any Gross Tons Upon Inland Waters, First Class Pilot Vessels of Any Gross Tons – New York Harbor, Master 1600 GRT (3000 ITC) Upon Oceans, Master of Towing Vessels Upon Oceans, and Designated Duty Engineer of Motor Plants - Any Horsepower, and Chief Engineer Offshore Supply Vessels.
Education
B.A. in International Studies, Iona College, 1990

M.S. in International Transportation Management, State University of New York Maritime College, 2007
Courses
Current Courses Include
- GBTT 251 Transportation Systems
- GBTT 252 Business of Shipping
- GBTT 457 Port and Terminal Operations