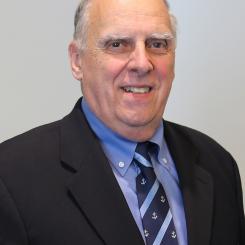 I currently serve as Department Chair and as an Assistant Professor in the Global Business & Transportation Department where I had previously served as the Vice Chair for seven and one half years. I began my tenure at SUNY Maritime in 2003 as an adjunct in GBAT and was promoted to the full-time faculty in 2006 as a lecturer and was subsequently promoted to an assistant professor. In addition to my extensive teaching experience I have had an extensive business career serving for over 25 years in a variety of sales and marketing functions from small family run entrepreneurial ventures to Fortune 500 firms. During that time I have held management positions as an Area Manager, Regional Sales Manager, National Sales Manager, Assistant Director of Sales and retired as Senior Vice President of Marketing and Sales of Main Fine USA in 2005. 
In addition to my extensive industry experience, I have been involved in the educational field as a Museum Director of Interpretation & Education, and faculty member teaching both history and business subjects on the college level for over 20 years. Most recently I have taught business subjects at SUNY Orange Middletown, NY, Concordia College, Bronxville, NY and Mercy College, Dobbs Ferry, NY as well as the Maritime College. 
I hold both BA and MA degrees in History from St. John's University, New York where I was also a Ph.D. candidate in Early United States History, a MBA degree from Kensington University and a D.B.A in International Business from California Southern University.  
Education
D.B.A . - California Southern University (International Business) 
MBA -   Kensington University  
 MA   -    St. John's University, NY (History) 
 BA cum laude- St. John's University (History) 
Research
Research interests include: The Free Trade Area of the Americas, the EU, and Wal-Mart Stores and developing case studies as a member of the Society for Case Study Research.  
Outside interests and hobbies include touring living history museums,( I have been going to Colonial Williamsburg for 30 years) and enjoying and engaging in American Revolutionary War and Civil War re-enactments in the Northeast.