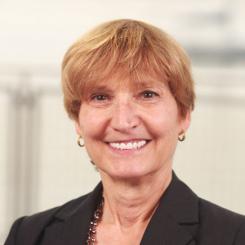 Dr. Virginia (Vicki) Ferritto is a full-time member of the Global Business and Transportation Department, and teaches an array of business classes, including GBUS 100: Introduction to Business & Economics GBMG 341: Organizational Management, GBUS 300: International Business and GBTT 251: Transportation Systems. In addition, she developed course materials for the mandatory first-year graduate course, TMGT 6001: Orientation for Graduate Studies. In that capacity, she teaches all in-class and online sections of the course and is responsible for coordinating and organizing its semi-annual event.
Dr. Ferritto serves as president of the Faculty-Student Association board of directors. She contributes to campus-wide committees and task forces, including the strategic planning committee and one of its sub-committees focused on achieving new heights of academic excellence. She also serves on the graduation and retention Taskforce, the campus personal safety advisory committee and the online steering committee. She is active within the GBAT department, facilitating its ITT entrance/exit assessment initiative and serving as the department representative on the curriculum committee and the committee on nominations and elections. Dr. Ferritto continues to contribute to the scholar-practitioner community, serving as an article reviewer for the Academy of Management.
Dr. Ferritto earned a Ph.D. in Organization and Management from Capella University, complementing her diverse business background in management, production facilitation, import, export and distribution. Her business career involved a number of promotions, from customer service manager to logistics director to operations Vice President to executive Vice President, a position she held for six years with a private manufacturing firm.