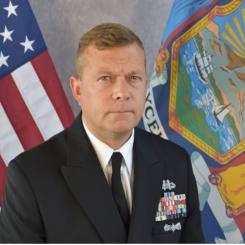 Captain Adam Grohman
Leadership Development and Operations Officer
Commandant of Cadets
Adam Grohman was born and raised in Pomona, New Jersey. He received his Associate in Science and Associate in Arts from Atlantic Cape Community College. He then attended Long Island University at C.W. Post and completed his Bachelor in Fine Arts degree in Film. He attained his Master in Arts in American History and a second Master in Arts in Military Studies with a concentration in Naval Studies from American Military University. He is a boatswain's mate in the United States Coast Guard Reserve and has served on both active and reserve duties in Cape May, New Jersey, San Diego, California, Guantanamo Bay, Cuba as a member of a USCG Port Security Unit Detachment, and most recently, Jones Beach, New York. Captain Grohman has worked in various aspects of higher education for two decades and taught a variety of courses at LIU C.W. Post, LIU Brooklyn, NY Institute of Technology, Webb Institute, and SUNY Maritime College. Captain Grohman is a PADI Dive Master and has successfully researched multiple shipwrecks and their histories in the NY and Long Island areas. His columns, "In Our Waters" and "Sentinels and Saviors of the Seas" – which highlight the rich history of the United States Coast Guard - are featured monthly in Long Island Boating World magazine. In addition to his columns, he has published over thirty books highlighting various aspects of maritime history, children's stories, and several fiction titles. He is the proud father of two sons, Aidan and Liam.