Maritime college food pantry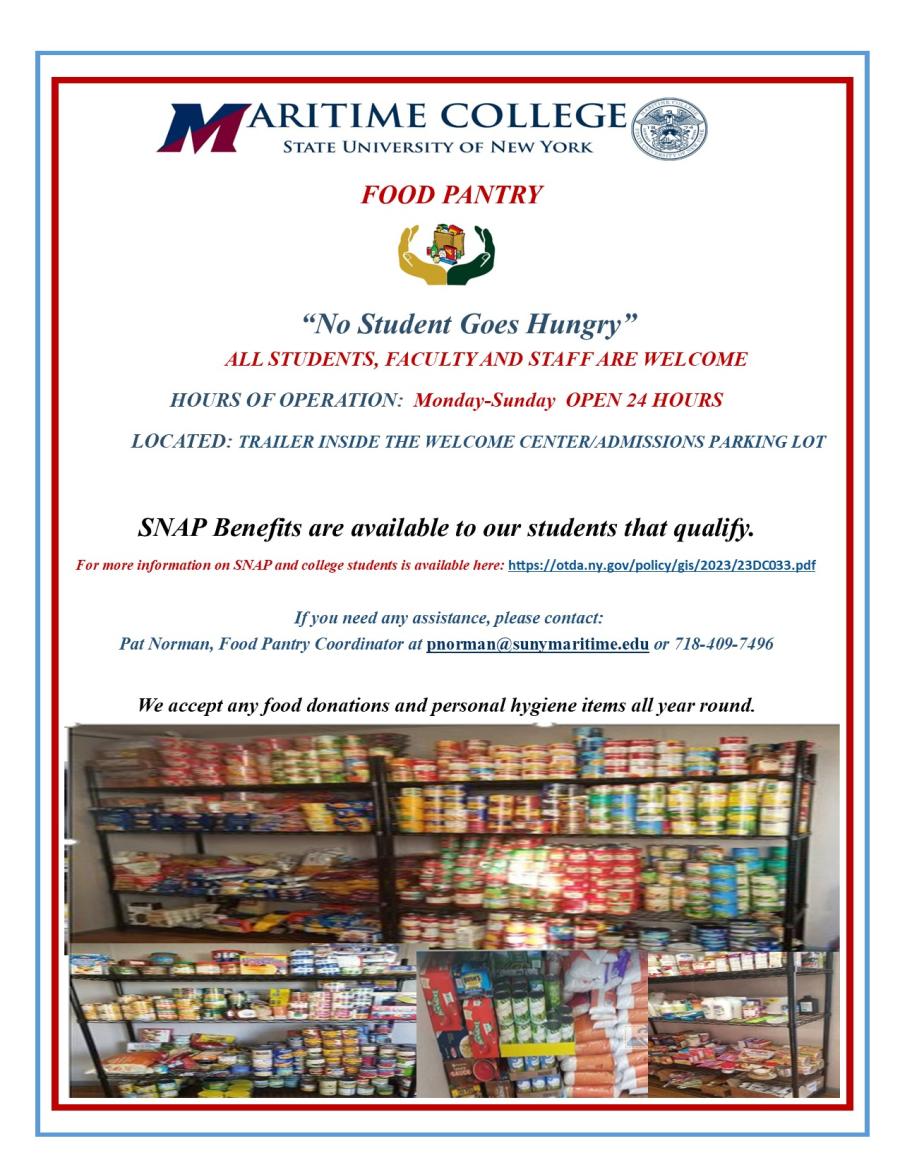 "No Student Goes Hungry"
Available to all students, faculty and staff      
HOURS OF OPERATION
Open 7 Days a Week -  24 HOURS
LOCATION
Welcome Center/Admissions Trailer, Parking Lot
Keeping Students Nourished and Healthy to Increase Success in College
A lack of regular access to food is an issue that plagues approximately half of today's college students. In addition to negatively affecting students' health, food insecurity, or the absence of food, impacts a student's ability to succeed academically and graduate. Recognizing that hunger should not be an obstacle for students to thrive academically, colleges and universities have long been at work developing the means to support students in need. With new efforts and partnerships on the rise, all 64 of SUNY's colleges and universities now have a food pantry or stigma-free food access available to their students as of December 2018.
Following the announcement of New York's "No Student Goes Hungry Program," which mandated that all SUNY and CUNY schools have a food pantry or stigma-free food access for students, SUNY launched a Food Insecurity Task Force, which is co-chaired by Dr. Anne Kress, President of Monroe Community College and Ms. Randi Shubin-Dresner, President and CEO of Island Harvest Food Bank, and coordinated by Dr. John Graham, Associate Provost for Student Affairs at SUNY System. Approved by SUNY's Board of Trustees and backed by the full support of Chancellor Johnson, the task force was first discussed and created by SUNY's Student Life Committee.
The task force is comprised of higher education leaders and students from across the university system, along with experts in the fields of diet and nutrition, campus food service, financial aid, food waste prevention, and nutritional research scientists, among others. The group focused on creating strategic partnerships, scaling best practices across the system, and building awareness for on-campus resources such as food pantries and food access alternatives.
"Student hunger and food insecurity has introduced a new set of circumstances that directly impact their persistence, retention, and degree completion," said Dr. Graham. "On close examination, we have learned in the past few years at SUNY that given the geographical diversity of our institutions and their mission, the challenge to effectively address student hunger is critical. Given that food insecurity is a complex issue with no one-size-fits-all solution, our 64 schools across the system provide services from traditional food pantries to community and government resources to educational opportunities to help our students overcome food insecurity."
SNAP Benefits
Snap Benefits are available to all students who qualify.
At the State of the University address, Chancellor King identified supporting students facing food insecurity as a priority for student success. The supplemental nutrition assistance program (SNAP) is one way that certain eligible students can receive funding for groceries. However, many college students who are eligible for SNAP do not apply, due to confusion or difficulty with the process.
 More information on SNAP and college students is available here.