Summer Sea Term is one of the requirements to earning a U.S. Coast Guard license.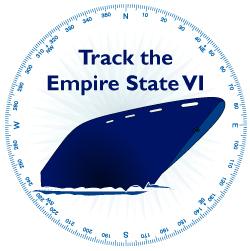 As part of the program, cadets - either deck or engine license candidates - must accrue at least 180 days at sea before they graduate. Time is earned during summer sea term journeys after freshman, sophomore and junior years.
Through summer sea term, cadets travel around the world gaining vital hands-on experience in operating a ship and dealing with port traffic. Cadets sail aboard the Training Ship Empire State VI, a 565-foot, steam-powered vessel that serves as a floating lab during the school year. 
The cruise itinerary changes every year to include ports around the U.S. East Coast and Europe. The ship usually leaves the Monday after May commencement and returns to campus in early August.
Track the Empire State through Marine Traffic or Vessel Finder
Applying for a Summer Sea Term Scholarship
Scholarship applications are now being accepted for the 2021 Summer Sea Term. To apply students may:
Log on to their Academics Works account.

Complete the general application (once submitted, the application will automatically be applied to the general scholarships for which the student qualifies).

Select the Opportunities tab to apply for additional scholarships available

Submit the Summer Sea Term 2021 scholarship application by Monday, February, 8, 2021.
For additional scholarship information, contact scholarships@sunymaritime.edu  
Ensuring Safety During Summer Sea Term 2021
COVID-19 continues to pose a significant risk to the successful execution of A and B cruises. As Summer Sea Term (including pre-cruise) begins immediately after spring semester final examinations, all cadets participating in the first half of SST (A cruise) will need to have received the COVID-19 vaccine. An outbreak on A cruise could lead to suspension/cancelation of the cruise, negatively impacting both the A and B cruises. The accrual of sea time would be insufficient, class grades would be affected, and the Sea Term would have to be made up in 2022.
Presently, over 700 cadets who registered for SST-21 have received the COVID-19 vaccine. Cadets who registered for SST-21 and choose not to receive the COVID-19 vaccine will be deferred to the B cruise. B cruise begins at the end of June and will adhere to the same COVID protocols for unvaccinated personnel in the U.S. Navy, other state maritime academies, and the maritime industry. Specifically, unvaccinated persons will undergo additional quarantine and screening (pre-cruise), maintain strict COVID protocols for the entire cruise (masks, social distancing, etc.), and will be required to remain on the ship through the end of post cruise (unvaccinated persons will not be allowed ashore in any ports). 
Ship Departure: Tuesday, April 27
The annual departure and arrival of EMPIRE STATE VI for Summer Sea Term are two of the most exciting and highly anticipated events on campus. Typically, these celebratory events attract anywhere from 1200-1500 visitors to campus (per event).  
NYS COVID-19 Guidelines and Campus Access
Currently, the NYS Department of Health (DOH) and SUNY have established specific guidelines for on-campus events. Considering the number of visitors that SST ship departure attracts, Maritime College cannot implement all COVID-19 safety measures required by DOH and SUNY for a medium/large scale event (over 200 people). As such, the campus will be closed to all visitors on the day EMPIRE STATE VI is scheduled to depart campus (Tuesday, April 27).  Only students and employees will be allowed to access the campus. No family members or friends will be permitted access.
Virtual Ship Departure and Public Viewing Sites
This year our Ship Departure for A-Cruise will be virtual and the event will be Livestreamed beginning at 8:30 a.m. directly from Olivet Pier. View the Ship Departure Livestream. 
Families and friends are also encouraged to take advantage of the many public parks and sites along the East River to observe the EMPIRE STATE's transit. These include:
Francis Lewis Park, Whitestone

Ferry Point Park, Throggs Neck

Clason Point Park, Soundview

Hermon A. Macneil Park, College Point

Randall's Island

Astoria Park, Astoria Queens

Roosevelt Island

John Lindsey East River Park, Lower East Side

Brooklyn Bridge and Brooklyn Bridge Park

South Street Seaport
Maritime College looks forward to a successful Summer Sea Term with the hope that future updates to the NYS, DOH and SUNY guidelines will allow guests and visitors on campus when EMPIRE STATE returns on June 25.
Summer Sea Term 2021
Health and Safety Protocols for Summer Sea Term
Health and safety protocols will depend on the status of the COVID-19 virus and the availability of a vaccine for the crew and Cadets participating in Sea Term, and will be based on guidance from the CDC, US Coast Guard, MARAD, New York State, SUNY, and industry "best practices."
Length of the Summer Sea Term
There will be two 67-day legs.
Dates for Summer Sea Term
Cruise A
Pre-Cruise                        22 April – 26 April 2021
Ship Departs                    27 April 2021 @0900
Ship Returns*                  25 June 2021 
Post Cruise  Ends            27 June 2021
USCG License Exam       28 June - 02 July 2021
Cruise B
Unvaccinated                   12 - 26 June
Quarantine Period 
Pre-cruise                        26 June – 30 June 2021
Ship Departs                    1 July 2021 @1000
Ship Returns                    29 August 2021 
Post Cruise Ends             31 August
*Empire State VI will return to SUNY Maritime College between Cruise A and B for the switch out of Cadets.
Summer Sea Term Ports
Tentatively, these are the ports for Summer Sea Term  2021. Dates will be posted once final confirmation and authorization is received from MARAD and the US State Department.
Cruise A
Charleston, SC

Fort Lauderdale, FL

San Juan, Puerto Rico
Cruise B 
Palma Mallorca, Spain

Porto Portugal

Tenerife, Canary Islands
Mailing Address for Letters and Packages
Luis Ayala Colon, Inc/San Juan, PR
TS EMPIRE STATE/ Cadet Name or Staff Name
P.O. Box 9024164
San Juan, Puerto Rico 00902-4164
Eligibility for 1/C to Sit for Coast Guard License Exam
1/c Cadets who have completed all other requirements except 1/c cruise (MT/ENGR 530) will test once the ship returns from the first leg in anticipation of a July graduation.

Cadets who have completed all other requirements except 2/c cruise (MT/ENGR 520) and 1/c cruise (MT/ENGR 530) and who plan to complete both legs in 2021, will test once the ship returns from the second leg in anticipation of a September graduation.

1/c Cadets who have academic requirements remaining after SST 2021 and can graduate in January or May 2022, will test in December 2021.