Summer Sea Term is one of the requirements to earning a U.S. Coast Guard license.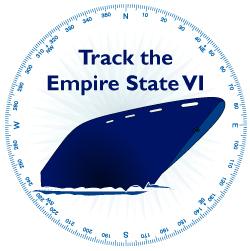 As part of the program, cadets - either deck or engine license candidates - must accrue at least 180 days at sea before they graduate. Time is earned during summer sea term journeys after freshman, sophomore and junior years.
Through summer sea term, cadets travel around the world gaining vital hands-on experience in operating a ship and dealing with port traffic. Cadets sail aboard the Training Ship Empire State VI, a 565-foot, steam-powered vessel that serves as a floating lab during the school year. 
The cruise itinerary changes every year to include ports around the U.S. East Coast and Europe. The ship usually leaves the Monday after May commencement and returns to campus in August.
Track the Empire State through Marine Traffic or Vessel Finder
A Message from RADM Michael Alfultis
August 19, 2021
On Friday, August 13, the Empire State departed the Canary Islands and is scheduled to arrive at Maritime College on Sunday, August 29.  Throughout this Summer Sea Term, regular COVID-19 surveillance testing has taken place according to CDC and Maritime College protocols.
Earlier this week, the ship completed its 100% post-port visit testing.  We learned that of the 445 tests conducted, 8 positive results were identified (1.8%).  The ship's staff is conducting contact tracing and will retest close contacts later this week.  Those who tested positive are either asymptomatic or have mild symptoms.  They are being monitored by the ship's medical staff.  Of the 8 who tested positive, 7 were vaccinated.  
Prior to the Tenerife port visit, 5 positive cases and 2 subsequent close contact positives were identified.  Presently, the total number of positive test results during this Sea Term is 15 (3.4%).  Of these, 5 individuals have been released from isolation.  Ten remain in isolation and will be released by August 27.  Enhanced cleaning of the ship and indoor mask-wearing protocols have been in place and will continue for the duration of the Sea Term.
As the health and safety of all onboard the Empire State is our top priority, every individual will be tested before disembarking the ship on August 29. 
We are carefully monitoring these events and will share more information on ship return at a later date.
RADM Michael Alfultis, USMS, Ph.D.
President
August 9, 2021
This morning, the Training Ship Empire State VI arrived in Santa Cruz, Tenerife, on schedule.  Since the onset of this second Summer Sea Term, cadets, crew and staff have undergone weekly COVID-19 surveillance testing with no positive cases.  In addition, all 453 individuals on the training ship have been diligent in adhering to the COVID-19 protocols throughout the Sea Term.
Yesterday, we learned that two staff members reported to the ship's medical office with symptoms of COVID-19.  Both tested positive, were retested, and again, tested positive.  Immediately, both individuals were isolated and contact tracing commenced.  While all 453 on board were quickly tested, enhanced cleaning and other COVID-19 protocols were implemented, including indoor mask requirements.
Upon testing all on board, two additional staff and one 1/C cadet were identified as positive.  A total of five individuals on board are positive and demonstrating mild symptoms (1.1% positivity rate).  The five individuals, each fully vaccinated, are currently in quarantine and under close observation by the ship's medical staff.
The Spanish Health Ministry approved the training ship's response and implementation of COVID-19 protocols and granted all vaccinated individuals COVID health clearance for shore leave.  Masks will be required at all times while onshore.  Unvaccinated students will not be permitted onshore.
TSES VI Master, Capt. Morgan McManus noted the exemplary performance of the cadets and stated, "The cadets all displayed maturity, professionalism and teamwork when they were informed of what was occurring on the ship. Cadet leadership worked as a team with the ship's officers and the medical team to organize the testing. Other cadets jumped in to help set up tables for outside dining or bring meals to those who were quickly isolated. Cadets on watch continued with their duties without distraction. I was proud to witness how they all individually and collectively rose to the challenge."
The training ship will return to Maritime College on Sunday, August 29, as previously scheduled.  Additional details on ship return are forthcoming.  We will share any information we receive from the ship's Master and medical crew with the College community and continue to monitor any event as it occurs.  
RADM Michael Alfultis, USMS, Ph.D.
President
2021 Ports 
Palma Mallorca, Spain

A Coruña, Spain

Tenerife, Canary Islands
Eligibility for 1/C to Sit for Coast Guard License Exam
Cadets who have completed all other requirements except 2/c cruise (MT/ENGR 520) and 1/c cruise (MT/ENGR 530) and who plan to complete both legs in 2021, will test once the ship returns from the second leg in anticipation of a September graduation.

1/c Cadets who have academic requirements remaining after SST 2021 and can graduate in January or May 2022, will test in December 2021.