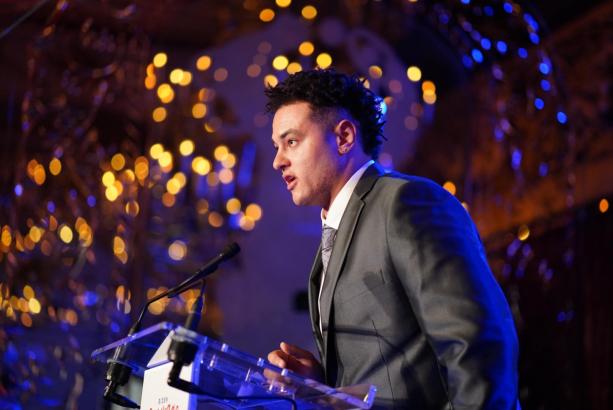 SUNY Maritime College will welcome SUNY Cortland senior Kyle Richard in the College's MAC Multipurpose Room on Thursday, January 24 at 3:00 PM for a talk and discussion with students. Richard was shot twice during the summer of 2017 when he intervened to stop a sexual assault in progress. He lectures now about the importance of bystander intervention. 
Richard's talk was announced by Maritime College's Dean of Students Will Imbriale, who said that interest is so high that the session will be streamed simultaneously to the Mess Deck and the S/E lecture hall. "This event is open to the campus community and it's a great opportunity for our students to consider what being an active bystander means and what it requires. For our regiments, our athletes and every other member of this community, Kyle's presentation will reinforce the ethical standards that should guide all our lives."
"I am honored to address the SUNY Maritime College students", said Richard. "I'm uncomfortable being called a hero for stepping forward with others who were also hurt doing what we considered to be the right thing. But I do feel a calling to address the fact that many bystanders to a crime in progress do not take action. And I think that should change."
At a party during the summer of 2017, Richard interrupted a sexual assault in progress. He pursued the assailant, who drew a gun and shot Richard twice, hitting him once in each leg. The bullets missed major arteries and bones by millimeters, and Richard recovered from the injuries in time for football season.
The instinct to act for Richard came from his football experience and also from his mother, Sandra Richard, a sergeant with the Nassau County Police Department and a 30-year veteran in law enforcement who encouraged Richard to take charge in tough situations. A native of Lakeview, N.Y., Richard attended Malverne High School before enrolling at SUNY Cortland, where he majors in kinesiology and still plays football.
"I hope that other students follow my lead and do what they can to prevent and stop domestic violence and sexual assault. Say something. Reach out to police or other authorities. Don't be a bystander", said Richard, who heard the calls for help from a stranger in need and took action.
Richard has received a number of awards and recognition from local and national organizations, including former Vice President Joe Biden's Biden Courage Award for Bystander Intervention from It's On Us and the Biden Foundation. NFL commissioner Roger Goodell sent a personal note of thanks to Richard after he earned the Biden Courage Award. SUNY Chancellor Kristina Johnson selected Richard to speak and serve as student representative of the 600,000-student SUNY system at her inauguration in September. 
"Richard's talk on January 24 is part of Maritime College's emphasis on educating students who are prepared to lead their communities as well as their careers for the rest of their lives", said Dean Imbriale. "You never know what situations you face as students, deckhands, athletes or in any walk of life. We at Maritime College believe that the valiant action displayed by Kyle Richard merits attention and discussion – and we are proud to host him on January 24."