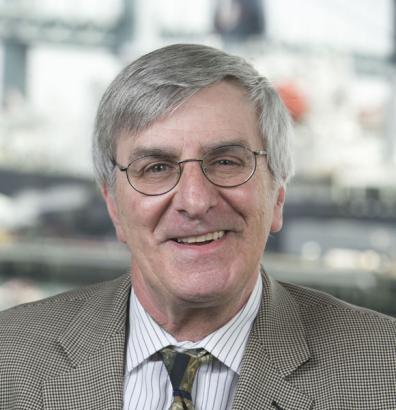 Nearly everything a person touches, uses and eats is transported by a ship. Shipping, and the ports, terminals and railways that support global commerce, form an industry whose economic impact is measured in the trillions of dollars.
Ira Breskin, senior lecturer of humanities at SUNY Maritime College, has published a book, the ninth edition of "The Business of Shipping," that gives an in-depth introduction to this dynamic industry and to its place in the global supply chain.
"It's a good introduction to the industry at a pretty high level and includes the business operations of the ship and anything that touches the ship – ports, terminals and railways, as well as references to trucking and maritime history," said Breskin. "This book is good for people who know the sector of the industry that their work touches, as well as those who know less about other aspects of the industry and want a better understanding."
Breskin's edition of the book includes substantial revisions and updates that offer new insight into an industry that is rapidly changing as the result of digitization, Big Data and other technological innovations. It was published by Schiffer Publishing/Cornell Maritime Press.
He will host a book launch talk and signing at the college's Stephen B. Luce Library in the fall.
In the course of two years of work, Breskin updated or rewrote about half of the 450-page volume. He also added chapters on environmental rules and regulations, which are becoming increasingly stringent around the globe; and the American maritime industry. The book also speculates on the future of the industry, including discussions of autonomous ships, cybersecurity, supply-chain management software and inland transportation.
Breskin has been using previous editions of the book in his maritime business courses since 2003. As the industry has changed, he has been gathering updated materials from other sources to ensure that his students receive current, forward-looking information as they prepare for their careers. Part of his interest in updating the book stems from his desire to ensure that his students are receiving the best education possible.
"This book has been a labor of love and is a natural outgrowth of the work I do for my classes," he said. "But it's not a textbook; it's a primer. It's a valuable work for those just coming into the industry, or those looking to learn about another part of the industry that they aren't intimately familiar with."
For more information, visit thebusinessofshipping.com.