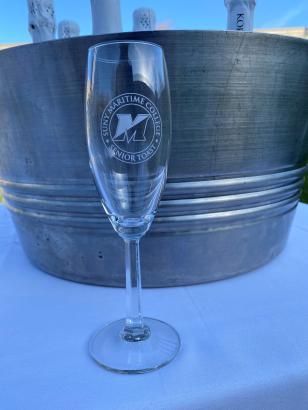 On the evening of April 6, the graduating seniors of the Class of 2021 gathered in the Fort for their Ring Ceremony, an event that is usually celebrated outside of the College campus. This year, almost 100 seniors gathered to mark the occasion of receiving their graduation rings and the opportunity to have their ring dipped in the waters of the seven seas.
Traditionally, Maritime College alumni collect waters of the seven seas as they travel throughout the world to donate to the College for this occasion. For the Ring Ceremony, the waters of the seven seas were placed in a binnacle. Students dipped their rings in the water as Admiral Alfultis gave a "blessing" to the rings.
Kevin Danko '95, President of the Maritime College Alumni Association offered congratulatory remarks to the graduating seniors and shared the origins of the ring ceremony. Admiral Alfultis expressed his pride, noting the efforts and accomplishments of the soon-to-be graduating class, and encouraging them to remain strong when encountering challenge. "How you continue to face challenge will define who you are," he stated.
The evening ended with a toast wishing the Class of 2021 "Fair Winds and Following Seas."
Cheers to the Class of 2021!
View the photos here.