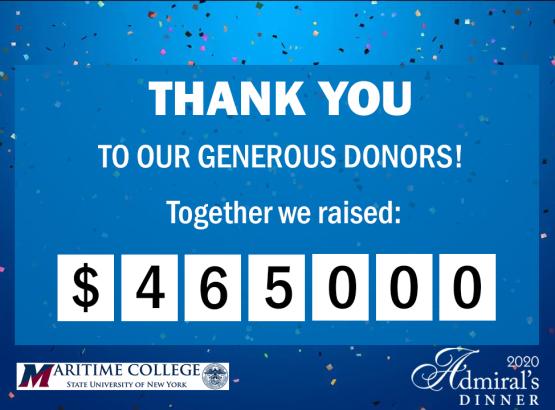 On Tuesday, September 22, 2020, the Admiral's Dinner was a virtual celebration of the Next 100 Years of the Jones Act.
It was also a special recognition of four distinguished honorees: Jennifer Carpenter, President & CEO, the American Waterways Operators; Lindsay Price '07, Senior Master, G&H Towing Company; Michael Roberts, President of American Maritime Partnership and Senior Vice President at Crowley Maritime; and Mark Ruge, Partner, K&L Gates. "Each of our honorees holds an impressive background professionally and we are proud to acknowledge their stellar contributions to the U.S. maritime industry at this virtual event," said  Maritime College President and Master of Ceremonies for the evening, RADM Michael Alfultis,
Thanks to the generosity of the event sponsors, industry partners, alumni and friends, this important event raised $465,000 toward student scholarships. "I am humbled by the level of support of all those who engaged with us at the Dinner. Your donations are greatly appreciated, very much needed, and will be directly applied toward advancing our mission of educating and training the next generation of dynamic maritime leaders," stated RADM Alfultis.
The Admiral's Dinner is held annually for the purpose of raising funds for student scholarships. This year's event celebrated the Next 100 Years of the Jones Act and each of the honorees received an award as a token of their support and advocacy of the Jones Act, as well as their notable achievements as maritime industry leaders. Over 300 registrants participated in the free event, taking part in the College's first-ever virtual dinner.
The evening concluded with the Captains' Afterglow, a conversation between Captain Jim DeSimone, former Master of the T/S Empire State Vl, and Captain Morgan McManus, current Master of the T/S Empire State Vl.  
Admiral's Dinner Video and e-Journal
View the Virtual Admiral's Dinner in its entirety to learn more about the Jones Act, the four distinguished honorees, student need and the importance of giving. The Admiral's Dinner e-Journal showcases the evening's program, sponsors and other pertinent information.
Donations are always welcome.