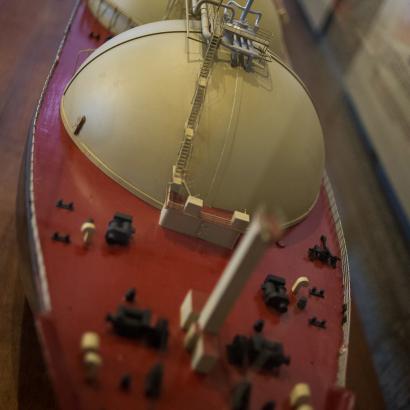 SUNY Maritime College has received $460,000 from the Governor Andrew M. Cuomo's office to promote clean energy workforce development and training programs in New York
The grant funding will support two initiatives: $230,000 to support the creation of an Off-Shore Energy Center and another $230,000 to support the establishment of a Liquified Natural Gas Center of Excellence.
Maritime College received the funding as part of a $15 million state investment and the first phase of the state's Climate Jobs NY, a component of the Clean Climate Careers initiative, which Gov. Cuomo established last year. Of the $15 million, $6 million was given to specific campuses within the State University of New York. The rest will support apprenticeship and internship partnerships between universities and industry partners.
"As the federal government moves further away from responsible energy policy and clean energy production, New York is committed to fighting climate change and protecting our environment," Governor Cuomo said. "We will continue to take bold action to promote clean energy across the state and support job growth in cutting-edge, renewable industries."
The Off-Shore Energy Center at Maritime will offer training programs for wind-operations technicians, dynamic positioning training and certification courses for off-shore vessel operators. The center's courses will be offered on campus and online, to make the courses accessible to students, working professionals and others. The first American off-shore wind farm opened in 2017 in Rhode Island and more are expected to be built in coming years, increasing the demand for a highly trained wind workforce.
This center will assist our nation's push to renewable energy," said Capt. Eric Johansson, distinguished professor of Marine Transportation at Maritime College. "New York State is working diligently to ensure that offshore wind is developed in the most responsible and cost-effective way possible. Maritime College is proud to support that effort."
The Liquified Natural Gas Center of Excellence will expand training options for professional mariners and others who work with the fuel. LNG is more environmentally friendly and less expensive than other conventional fuels, and it is increasingly being explored as a fuel to power commercial ships and in other applications. In building partnerships and other collaborations between Maritime College and the LNG industry, the center will serve to bolster technological innovation and investment in education. It will also offer opportunities for Maritime College students to learn from LNG experts, to collaborate on industry research projects, and to participate in construction and retrofitting projects.
"With new global emissions standards looming, the marine shipping industry is increasingly looking at liquefied natural gas as an alternative to high-sulfur fuel," said Ayman Alakkawi, professor in the Department of Professional Education and Training at Maritime. "This evolution in LNG technology is providing a historic opportunity for American yards and the supporting industrial base to design, build and outfit some of the most technically advanced and environmentally friendly vessels. In establishing this Center of Excellence at Maritime, the college will be able to lead the innovation."
SUNY Chancellor Kristina M. Johnson said, "The alarms have sounded again and again on the consequences of climate change, overdependence on fossil fuels, and increased energy use and costs. SUNY is proud to provide high-quality, hands-on, and the most up-to-date clean energy education and training to our students, building a diverse, preeminent talent pipeline for today and tomorrow's clean energy industry in New York State. We are proud to be a part of the governor's long-term energy solution."
For more information or to get involved with the Off-Shore Energy Center, call Capt. Johansson at 718-409-2856.
For more information or to get involved with the LNG Center of Excellence, call Professor Alakkawi at 718-409-4687.