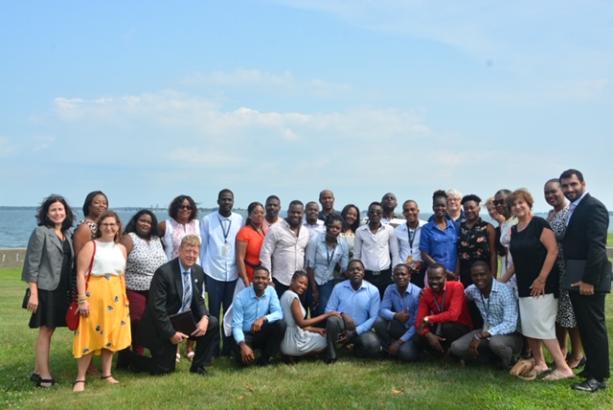 During the weeks of July 14 to August 2, twenty women and men from Haiti came to Maritime College to participate in the three-week inaugural offering of the Sustainable Village Learning Community project. Under the direction of Maritime College Humanities Chairperson Dr. Karen Markoe, the Haiti Project at Maritime was developed as an immersion program for participants to learn English, experience American culture and learn the importance of becoming strong leaders within their communities. The group of twenty young adults, who are recognized as leaders in their communities, were selected to take part in the program.
Haiti Project participants completed 18 hours of English class per week, practicing articulation and listening skills. They took part in leadership discussions, learning leadership concepts and approaches to conflict resolution. Their aspiration is to improve conditions in Haiti related to primary school educational initiatives and gender equality, and to encourage small and medium enterprises in local community groups.
Humanities Professor Nancy Karabeyoglu worked with the group and stated, "Maritime's language program aims to support English language fluency and the professional development of these young people who seek to advance change in Haiti with a historical and cultural component. Trips to iconic NYC landmarks fuel language production and provide experiential learning. These experiences develop leadership and teamwork skills."
On the program's last day, SUNY Provost Tod Laursen met with the students as they presented all they learned while visiting to New York City and Maritime.
The Haiti Project received generous funding from the W.K. Kellogg Foundation through its unique partnership with SUNY's Global Center. Maritime College is a proud partner school in the effort to develop educational, economic and social programs, resources and other necessary services.