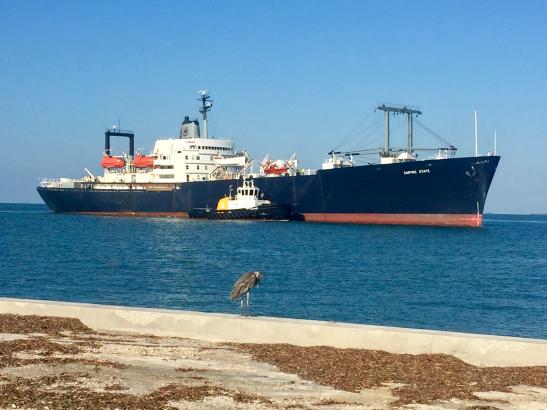 The U.S. Department of Transportation Maritime Administration has sent the Training Ship Empire State VI to Key West, Florida, to assist in Hurricane Irma recovery efforts.
Empire State VI and its crew of professional mariners arrived in Key West on Sunday, Sept. 17.
"The damage from Hurricanes Irma and Harvey has been shocking, and the college is proud that our training ship has been activated and sent to where it is most needed," said Rear Adm. Michael Alfultis, president of SUNY Maritime. "The severity and scale of these tragic storms has shown the vital need served by the nation's fleet of training ships, and underlines the importance of finding suitable replacements for them."
On Sept. 1, MARAD activated SUNY Maritime College's Empire State VI as well as the Kennedy, Massachusetts Maritime Academy's training ship, and the General Rudder, the training ship at Texas Maritime Academy, for a pre-scripted Federal Emergency Management Agency mission to support hurricane relief.
The ships' initial mission is to last for 30 days, with an option to renew for an additional 30 days. Once moored, the three training ships can provide power, housing, food, clean water and berthing to over 1,300 federal first responders, thereby freeing up local hotels for displaced residents.
Empire State was originally intended to go to Texas. After Hurricane Irma, FEMA reevaluated conditions in the Gulf of Mexico and altered the ship's destination.
The Empire State's relief efforts include delivery and distribution of donated items from many of the State University of New York campuses. The ship carried 24 pallets of bottled water and food that will be distributed to local residents in need. The pallets were purchased with more than $30,000 in donations to the SUNY Strong fund from people across the state. Originally intended for three relief organizations in Texas, SUNY Maritime is working to identify Florida relief organizations.
The Empire State VI is owned by MARAD, a branch of the Department of Transportation. Maritime College operates the ship to educate and train young men and women who plan to pursue careers in the commercial shipping industry, with the understanding that the ship may be activated by the federal government to respond to natural disasters or other emergencies. The Empire State VI responded to Hurricane Katrina in 2005 and to Superstorm Sandy in 2012.