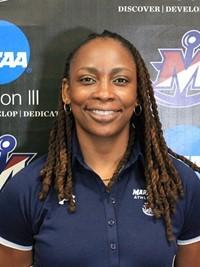 The Maritime College Athletic Department has announced the addition of women's basketball as a varsity sport. Interim Director of Athletics Mike Berkun announced Cheri Eleazer as the head coach of the team, who will help build the program and the roster through the first few years. Maritime hopes to begin competition in the Skyline Conference as soon as possible, but eyes the 2023-24 season as its main goal.
"I am thrilled to welcome Cheri Eleazer to the Maritime College Athletics Department and the College community," said Rear Admiral Michael Alfultis. "Her knowledge and experience in coaching and mentoring students will greatly benefit this sport and the student campus experience. I look forward to her developing a strong, vibrant women's basketball program at Maritime College."
"We are very excited to add women's basketball to the sports that we offer here at Maritime," said Berkun. "I couldn't be more confident in Coach Eleazer's ability to take this challenge head on and build a thriving and successful women's basketball program here." The new program has been started with a three-year grant from the independent SUNY Maritime Foundation, after being recommended by the College's Planning Budget and Assessment Committee.
Eleazer graduated from the University of Hartford, where she played all four years and was apart of the team's first ever NCAA Tournament appearance. During her rookie season in 1999-00 she earned a Conference Rookie of the Week award on December 19 and then in her sophomore campaign she led the team in assists (61) and steals (41). Following her career with the Hawks, she went on to play semi-professional basketball in the National Women's Basketball League.
Eleazer began her coaching career at Nassau Community College in 2004 and then with St. Joseph's College Long Island in 2005 as an assistant coach. From there, she made the jump to Division I where she was the Director of Operations for the women's basketball program at Hofstra University. Following Hofstra she went to the University of Baltimore Maryland County as the assistant coach with roles as the strength and conditioning and guards coach.
"I'm very grateful to have the opportunity to coach the women's basketball program at Maritime," said Eleazer. "My goal is to spread the word about our program locally. I'm not sure if student-athletes in our surrounding area know what they have in their backyard. We're eagerly anticipating building this team and getting into conference play."
Outside of collegiate basketball, Eleazer has recently coached at two high school programs in Connecticut as well as with the Swarm AAU basketball program. She currently resides in the Bronx with her fiancé.