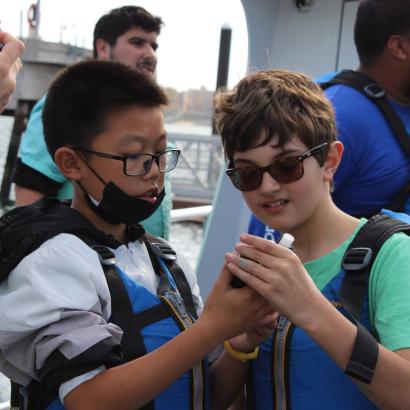 On Saturday, November 5, a bright morning at SUNY Maritime College, approximately thirty New York City middle-school students took part in a unique and enriching experience, NYC Student Day: Youth Power and Offshore Wind. 
The purpose of the day was to expose NYC students to the offshore wind industry through a variety of hands-on activities. Students began the day by receiving an introduction to offshore wind, its importance, and the future job opportunities that will one day be available to them. One group of students made their way to the College's Bridge Simulator room where they were wowed by the discovery of the small room lined with screens, a large control panel, and steering wheel. Another activity allowed students to invent their own wind turbine designs and compete to get the highest amount of energy produced. Maritime College marine environmental science professors Catarina Panzeca and Andrew Michelson aided students with building the turbines. This activity encouraged students to be immersed in their own designs and techniques. The final activity was a simulation where students had to climb to the top of a large wind turbine in Virtual Reality. While students were amazed by the views from the top of the turbine, few journeyed to the edge to see over five hundred feet below. Finally, the students gathered at the Waterfront to take a joyride on the boats and view the stunning NYC skyline and Throggs Neck Bridge. This was among their favorite excursions as they took turns driving a real boat.  
View photos of the day's event here. (Photo Credit: Natalie Garrow '25)
View News12 The Bronx coverage on the event here.