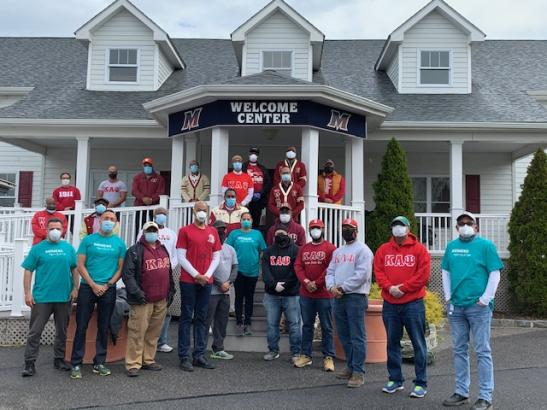 At a time when many students are facing the reality of food insecurity due to school closures, a unique partnership has emerged to offer assistance to students in need. SUNY Maritime College Engineering Professor Sean Carswell, in collaboration with Siemens and Kappa Alpha Psi Fraternity Inc., organized a two-day assembly and delivery of food items on Monday, May 11 and Tuesday, May 12.
On May 11, more than 20 volunteers from Kappa Alpha Psi Fraternity Inc. and four Siemens volunteers, including Vice President of Global Engineering Services, Lester DeLeon, joined forces to pack and organize over 900 bags of food for delivery at the SUNY Maritime College Welcome Center.
Professor Carswell learned through a mutual Kappa Alpha Psi Fraternity, Inc. brother of the need for Siemens to identify a location to assemble hundreds of food bags. "There is no better time to participate in humanitarian aid, and as a Maritime College alum, this effort aligns with the College's philosophy of supporting those in need," stated Carswell. "Siemens thanks our partners, the New York, Brooklyn, Long Island, New Rochelle, White Plains, Queens and Bronx Alumni Chapters of Kappa Alpha Psi Fraternity, Inc., SUNY Maritime College, and the AIM Foundation of Middle Tennessee without whom this program would not be possible, as well as the support of the NYPD and the Brooklyn Borough President," noted Siemens in a statement.
On May 12, food was distributed to Brownsville Collaborative Middle School students in Brownsville, Brooklyn.
View the story covered by BronxNet