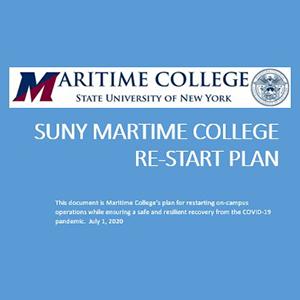 The State University of New York has certified and approved the Maritime College Re-Start Plan at its August 5 revision. The revision includes processes for quarantining and isolation of students traveling internationally or from restricted states on the New York State Travel Advisory list
The plan, which may be subject to additional changes as conditions related to the coronavirus pandemic change, certifies the restart of on-campus operations. The re-start plan has also been reviewed by the New York State Department of Health.  
In developing a comprehensive plan to re-start campus operations, the health and safety of all who make up the entire campus was of paramount importance and served as the guiding principle. 
Planning efforts are focused on the following four areas:
Plans and protocols to Repopulate the Campus

Plans and protocols to Monitor for any potential virus activity on Campus

Plans and protocols for Containment should there be any positive or suspected positive cases of the virus on Campus

Plans for returning to Remote Operation and Remote Instruction should conditions warrant
The College will take a phased approach in bringing students, faculty and staff back to campus in an effort to minimize re-starting risks. This approach allows the College to adjust and improve the plan as required. Although the plan addresses re-starting on-campus operations, it takes into account that health and safety considerations related to the COVID-19 pandemic may result in the College being required to offer only remote instruction. As circumstances related to the pandemic may change, the plan may be altered as needed. 
(Updated October 1, 2020)