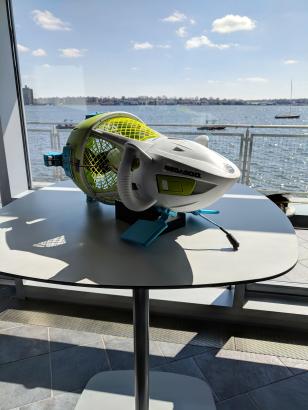 To most people, a Sea Doo Aqua Scooter's only purpose is to help people go shallow scuba diving. For SUNY Maritime engineering students, it's a starting point for creative engineering.
Seniors in SUNY Maritime College's Mechanical Engineering program recently completed a year-long senior capstone project focused on modifying Sea Doo Scooters into either a submersive surveillance drone or an automated lifeguard.
The teams of four to five students researched their options before completing design work, programming their device and building a prototype almost entirely by themselves.
"We design the task every year to bring back the major courses students take in their junior year: thermodynamics/heat transfer, fluid dynamics, circuits II/III, and mechanics of materials/machine design. The purpose is to show how all those classes end up tying together in a balancing act when students go out into the real world," said Dr. Robert Kidd, who facilitated the assignment with Dr. Weili Cui, both Mechanical Engineering faculty members.
Before final exams, each team set up their demonstration models and presentations around the first floor of the Maritime Academic Center to display their work for classmates, professors and others to explore and ask questions. Their grades depended on the quality of their work – the coding, circuitry and research – as well as their ability to explain what they did, why and how.
Many students also created a video of their prototypes in the campus pool to show their product in action.
"The most valuable lesson I learned throughout the process was the benefit of troubleshooting. Your first design is not your last design; things can always be improved," said senior Brian Hazell, whose group created a submersive surveillance drone they named The Cormorant. "The technology all of us are displaying today is practical. Even if it's just deploying a life ring in rough seas, it could save lives and take additional risk out of a situation that's already dangerous."
Hazell's group found inspiration for The Cormorant from existing drone technology which could control thrust direction from the propellers. They adapted the idea by using four 180-degree servo motors and two thruster motors allowing for an increase in their device's maneuverability and giving The Cormorant six degrees of freedom.
One of the lifeguard projects, named The Barracuda, boasted a continuous run time of 20 minutes, and moved at a max speed of 7.3 mph. Under heavy surf, the life-saving device would be much faster and safer than a human.
"There are a lot of logistics and hard work that went into this," said senior Mechanical Engineering student Dave Clark, part of the Barracuda team. "People learned to code, we set up cost-benefit analyses and we had to test everything. We're all here to show our designs and explain the concepts. I think everyone is really proud of what they've accomplished."
All engineering students at SUNY Maritime are required to complete a capstone design project, where they either modify an existing device or create their own. By working in small teams over the course of two or three semesters, students use current technology to explore and solve current problems faced in their discipline, and synthesize all of the knowledge they've gained and courses they've taken throughout their engineering education at the college.
"I was very happy with the projects this year," said Dr. Kidd. "We've been watching these projects come together since the fall semester and it was great to see so many of them turn the corner and produce finished designs and prototypes. I am very proud of what they've accomplished."