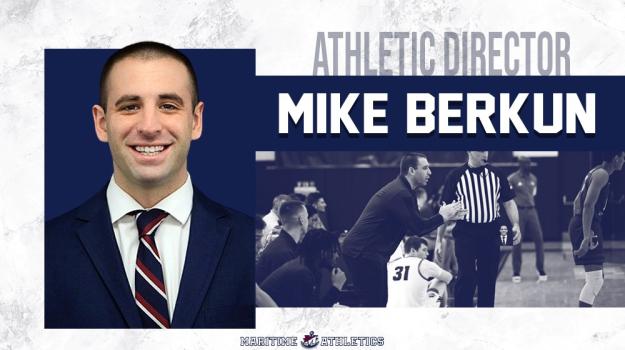 Following a nationwide search and after serving in an interim capacity since August 2019, Mike Berkun has officially been announced as the College's 10th Director of Athletics. 
As Director of Athletics and head coach of the Privateers' men's basketball team, Berkun will oversee a department that features 16 varsity teams and more than 400 student-athletes competing at the NCAA Division III level in the Skyline Conference, Eastern Collegiate Football Conference, Intercollegiate Sailing Association and USA Rowing. He is also responsible for the College's three club programs and all intramural sports. "We've been doing some great things here at Maritime, with more on the horizon," said Berkun. "I'm excited by that growth and look forward to seeing it continue."

Berkun took over as Interim Director of Athletics in August 2019 and helped to steer the Athletic Department through the pandemic. All athletic activity was shut down for nearly an entire year, but effective protocols were put in place, allowing the spring teams to play a limited schedule in 2021 before a full return to competition for all sports during the 2021-22 academic year. 

Under Berkun's leadership, three Maritime teams have won conference championships: football and men's soccer in 2019 and men's lacrosse in 2021. He hired new head coaches in men's and women's soccer, women's lacrosse and volleyball, and was instrumental in the reintroduction of women's basketball as a varsity sport. Berkun also played a major role in the football team's upcoming move to the New England Women's and Men's Athletic Conference (NEWMAC) in 2023.

A 2010 graduate of Medaille with a degree in Liberal Studies, Berkun received his master's degree in Sport Administration from Canisius College in 2015. Originally hired as Head Men's Basketball Coach and Assistant Athletic Director in 2017-18, Berkun amassed a wealth of experience in different areas of the Maritime Athletic Department, from facilities to compliance to development, before taking over as Interim Athletic Director.