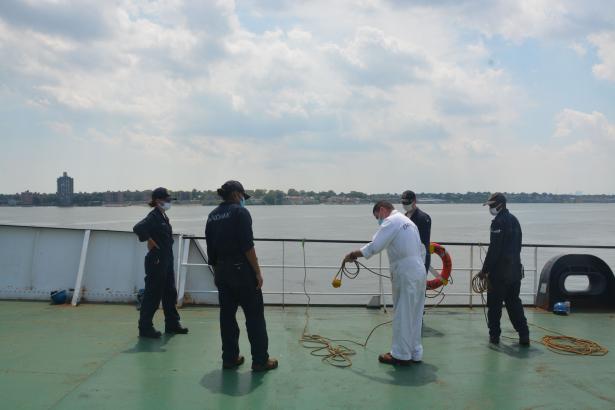 From July 13 through August 15, over 200 cadets returned to Maritime College to participate in the first-ever 30-day Pier-Side Maintenance and Watchkeeping (PSM&W) program. The program was developed to help cadets make up for lost sea-time as a result of the coronavirus pandemic and subsequent cancellation of the 2020 Summer Sea Term. "It was very important to take advantage of the opportunity I was being given. I have all of my academics completed; all I need are my sea days. Any sea days I can get in wherever I can, is crucial to me," explained Cadet Maura Neely 1/C on why she chose to participate in the program.
Students came from near and far to participate in PSM&W. International student, Cadet Joshua Brooks 1/C was quarantining in the Bahamas prior to learning of the opportunity to earn 30 sea-days. Taking advantage of the chance, he came to New York to quarantine.
Before arriving on campus, students were required to self-quarantine at home for 14 days, maintain a temperature log, and complete a questionnaire concerning potential COVID-19 symptoms and travel history. Maritime College Health Services partnered with SUNY Downstate Medical to test all cadets and faculty within the first three days of the program. In total 5 students tested positive for COVID-19 and were sent home to quarantine on the first week. For the program's duration, random testing of cadets and faculty was conducted weekly and no positive cases were confirmed for the remaining four weeks of the program.
Adapting to the new normal, students adhered to wearing a mask, remaining on campus and following other preventative safety measures. "Our students have been incredibly responsible in helping each other operate and learn in a safe environment. PPE has been worn consistently, and I believe that is the main reason the program has been a huge success," remarked Dr. Imbriale, Dean of Students.
Throughout the program, students conducted maintenance and repair work aboard the Training Ship Empire State VI, stood watch, operated deck and engine simulators, worked in labs and attended lectures. Describing his experience, Cadet Trevor Webb said, "It's been really cool! The Marine Transportation department took us out on the small boats, we spent a lot of time in the simulators, and we've done cargo operations with the Mary Fau system. This was an opportunity for the school to explore new ideas, and I think we'll benefit from that."
Professors developed cross-training between the deck and engine departments, which allowed engine cadets to complete exercises on the deck department simulator and deck cadets to take welding classes and learn how to use an engine lathe and other machining skills. Cadets were also allowed to complete assessments they were unable to take during the spring semester.
When they were not involved in coursework or experiential learning, cadets took time off to sail on the waterfront, watched movies at night on the quad, enjoyed the food trucks that came to campus and took part in a Corn Hole Tournament accompanied by music on the quad.
Many cadets, whose families endured financial hardship or income loss during the pandemic, were hesitant to participate in PST. Through the generosity of the Maritime College Alumni Association and the SUNY Maritime Foundation, scholarships were made available to PST participants. On August 13, cadets gathered at their 1300 formation to offer recognition to those who helped make the program a success. Representatives from the Alumni Association including President John Valvo '83, Scholarship Committee Chair Michael Brown, Treasurer Kevin Comerford, and Executive Director Saira Yo, were present to congratulate the cadets on their hard work.
The program – part of the College's plan to re-start campus operations and featured on BronxNet – was a success and allowed 208 cadets to gain a valuable and unique pier-side experience. 
View PSM&W photos here.