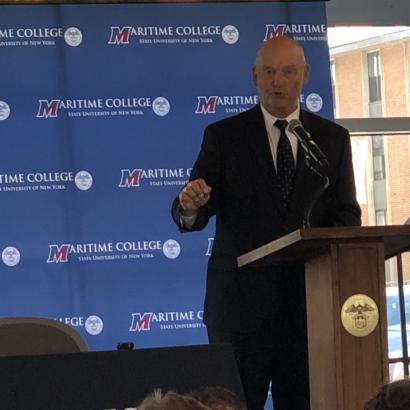 The North Atlantic's congested highways came one step closer to relief at the Marine highway Conference hosted by SUNY Maritime College and the Maritime Industry Museum at Fort Schuyler.
During the conference, Rear Adm. Mark Buzby, administrator of the federal Maritime Administration, and Capt. Jeffrey Flumignan, director of MARAD's North Atlantic Gateway Office, announced the creation of the North Atlantic Marine Highway Alliance. The regional partnership, with initial seed funding from MARAD, will begin to develop partnerships and collaborations between tug and barge operators, ports and terminals to move cargo off the region's congested and busy roads and onto its underutilized waterways.
"The added pressure on our national freight system is beginning to take effect. It leaves us no alternative but to find cheaper and more efficient ways of transporting cargo," said Administrator Buzby. "The solution lies on the water, the place where cargo movement began. As a core, but vastly underutilized component of the nation's freight transportation network, our marine highways are the only remaining "surface mode" of transportation capable of absorbing this excess freight volume."
Already, the New York metro area's roads, bridges and railways struggle to move all of the cargo coming and going through the region. In the next 30 years, cargo traffic coming through the region is projected to more than double, as the area's population increases and the economy continues to globalize. The only way to handle the additional cargo traffic is to move it onto barges for relatively short distances that currently are covered by truckers. This traffic would move over the so-called marine highway, also known as short-sea shipping.
"It's going to take a significant investment in maintenance, rehabilitation, modernization and capacity improvements to even begin to tap our marine highways' potential. It takes money, and permits, and a plan," said Administrator Buzby.
The conference featured speakers and panels to discuss successful short-sea shipping partnerships, emerging marine highway services and ways to expand the region's marine highway.
In addition to Rear Adm. Buzby and Flumignan, the conference speakers included: Matthew Kwatinetz, executive vice president of port NYC and asset management for New York City Economic Development Corp.; Bethann Rooney '91, assistant director of the Port Authority of New York and New Jersey; Evan Matthews, executive director of the Connecticut Port Authority; Ed Whitmore, president and CEO of Norfolk Tug Co.; Derek Veenhof, executive vice president of asset management at Covanta; Mike Stamatis, president of Red Hook Container Terminal; Robert Kunkel, owner and principal of Harbor Harvest; Ed Zimny, president and CEO of Seabury Maritime PFRA LLC; Richard Teubner, vice president of SEACOR; Antoon Van Collie, director of Blue Line Logistics; Jim Pelliccio, president and CEO of Port Newark Container Terminal; Andrew Genn, senior vice president of ports and transportation for New York City Economic Development Corp.; Kyle McAvoy, marine safety and naval architecture expert at Robson Forensic; Scott Davies, director of MARAD's Office of Ports and Waterways Planning; Matt Woodruff, president of American Maritime Partnership; Buckley McAllister, president of McAllister Towing; and Dennis Lombardi, director of strategic development at Romark Logistics.
"SUNY Maritime College was honored to host the Marine Highway Conference with the Maritime Industry Museum at Fort Schuyler," said Rear Adm. Michael Alfultis, president of SUNY Maritime College. "The conference brought together industry and governmental leaders with academic thought leaders, a crucial collaboration to consider and further develop our nation's waterways to move goods effectively and efficiently. Maritime College looks forward to being a leader in reimagining the country's maritime infrastructure for the purpose of reducing pollution and congestion, and creating good-paying jobs."