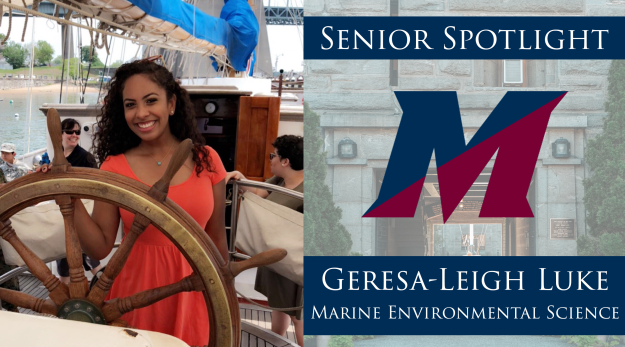 From a young age, Geresa-Leigh Luke knew she wanted to turn her love for the sea into a career. "My parents are from Trinidad and whenever we'd visit, I'd spend hours at the beach looking at all the marine life." As she grew older, her eagerness to learn more about marine biology and fascination with the water led her to Maritime College to study marine environmental science (MES).
Geresa-Leigh was a bit concerned about integrating into the student community as a freshman and commuter student, but made it her mission to become involved on campus. She soon landed a job at the admissions office. "By working for admissions, I met so many other students from different programs, and as a civilian student, I was given a chance to work with students in the regiment."
It was at the admissions office where Geresa-Leigh met her best friend. In 2017, her fellow MES classmate sadly passed away. While grieving the loss of her friend, the admissions team was there to support her every step of the way. At that moment, they became her second family. Although it was difficult to move forward, her friend's passing served as the motivation to keep going, "I wanted to finish the program for her because she didn't get to graduate." More determined than ever, Geresa-Leigh worked diligently to keep her promise. She was promoted to Lead Student Ambassador, assisted the admissions office with recruiting and training student ambassadors, conducted campus tours, and coordinated projects and campaigns.
In addition to her leadership role on campus, she was offered an internship by MES Professor Andrew Michelson to work on a research project. Together they studied Paleoclimatology by using Ostracods as proxies. "This allowed us to predict the salinity climate of an area from the past and compare it to the salinity of the present to help understand how the area has been affected by climate change." She and Professor Michelson were scheduled to travel to India in May to conduct field research and collect new samples, but their trip was canceled due to the coronavirus. "Although I did not go [to India], I gained valuable research experience and skills."
Inspired by her MES professors, Geresa-Leigh has found a passion for research. Upon graduation, she plans to pursue a Ph.D. in marine biology. "I have been so blessed to go to a school like Maritime College. I gained a family and met my best friend. I am proud that I achieved this for myself and her."
---