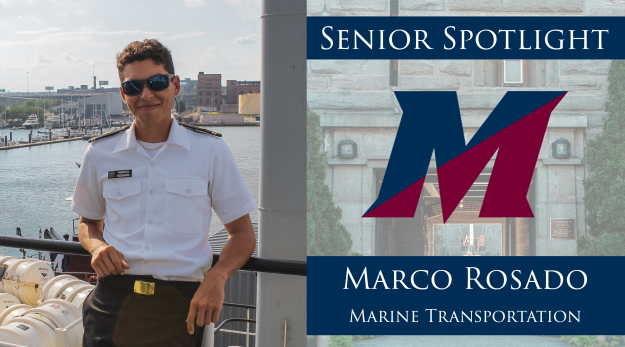 Growing up on the southwestern coast of Puerto Rico, the water was Marco Rosado's playground. "My childhood involved a lot of fishing, being in the water and around boats." His love for the water opened his eyes to a whole other world, the U.S. Merchant Marine. Knowing he could turn his passion into a career, he chose to attend Maritime College to study marine transportation and earn a deck license.
Rosado arrived at Fort Schuyler excited to learn valuable skills, acquire knowledge and obtain experience. Thousands of miles from home, he encountered difficulties adjusting to a new lifestyle and environment, but with the help of his cross country coaches and teammates, the process became easier. He began joining clubs. participating in campus activities, and recognized the positive impact his team had on his college experience.
In his senior year, Rosado was elected president of the Maritime College Puerto Rican Association. "The leadership experience I gained working with other students towards a common goal is something I am grateful for and will always remember."
Demonstrating leadership on and off the field, he was selected as a co-captain for the men's cross country team, further strengthening his ability to lead. "Being a senior, having three seasons under my belt and a conference championship, the underclassmen look up to me as a role model. My actions and how I portray myself to my teammates is very important."
He credits Cross Country Coach Rueger for significantly impacting his life both in the classroom and on the track. "He inspired me to always give it my best because he knew I was capable of much more than I thought." Throughout his years, his teammates taught him one of the most important lessons of all, "your team becomes your family."  
Reflecting on his journey at Maritime College, he considers his greatest achievement to be relentlessly pursuing his dream by "finding where I am meant to be, meeting others who share my passion, complement me and help me grow personally and professionally. Maritime College helped me achieve that goal in an extraordinary way."
Upon graduation, Rosado apires to sail commercially on an oceangoing vessel.