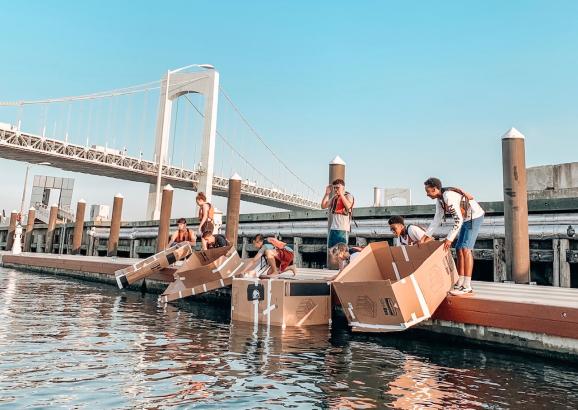 Seven years ago, the Science Technology Engineering Mathematics (STEM) Academy was founded to provide seniors from maritime themed high schools with an opportunity to dive deeper into STEM subjects and prepare for college. In addition to exposing students to college by living away from home, the STEM Academy serves as an experience for students to learn more about STEM subjects and career opportunities through coursework and hands-on activities. Over time, STEM Academy Co-Directors, Audrey Gillant, Maritime College math professor and Maranda Miller, Assistant Director of Learning Support Services, have expanded the program to reach a broader range of students, including those from local high schools entering their sophomore, junior and senior years. Participants of the STEM Academy live on campus for one week, attend different classes and participate in various activities. 
Among the courses students attended was chemistry where they learned about the concept of density, conducted experiments and tested water from the East River for copper and chromium. In the design course, students learned how to design a boat and use a 3D printer to bring their designs to life. The programming course allowed students to build a circuit board and use an Arduino board. In addition to coursework, students visited the National Geographic Encounter in Manhattan and drove power boats down the East River. Their final project required them to work as teams and apply their course knowledge toward designing and assembling cardboard boats to race across the river. At the end of the week, students conducted presentations of what they learned at the STEM Academy.
The STEM Academy is made possible by a grant from The TK Foundation and the generosity of Kevin Fox '80 and his wife Amy. Diversifying and continuing to expand the STEM Academy to include more students is a priority for its directors. They not only seek to showcase the endless number of opportunities STEM offers, but highlight the element of fun that can be found in STEM activities. A second week-long STEM Academy took place with a new group of students. Photos from both weeks are available here.