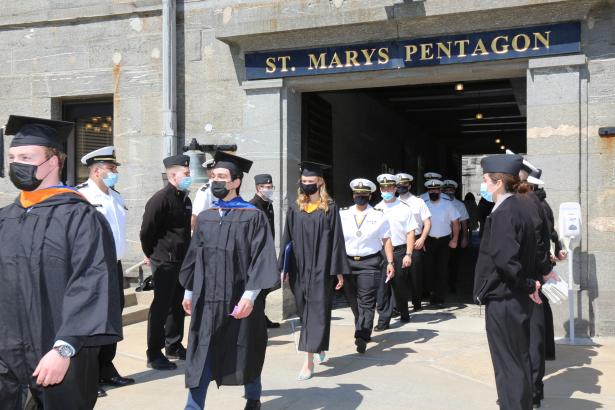 The Spring Commencement ceremonies for the School of Engineering, School of Maritime Education and Training, and the School of Business, Science and Humanities took place on Friday, April 23 at St. Marys Pentagon.
Festivities of the day began with the presentation of Veteran Military Commencement Medals to four graduates, Christopher Anstett, Jonattan Diaz, Luis Jimenez, and Patrick Shaughnessy. Two separate commencement ceremonies were held for the three Schools, which allowed each graduate two family members/guests to attend the ceremony in person. 
In her speech, Class Valedictorian Katherine Schillat stated, "For all those graduating, it took a lot of work to come to this point, but the future really is looking bright." 
Keynote Speaker and alumna Bethann Rooney '91 encouraged the graduates to focus on becoming the most effective leaders the can become and said, ""We all develop new skills throughout life, sometimes from difficult situations or painful experiences. Focus on being a flexible and agile leader who knows how to treat uncertainty and ambiguity as the new normal. Remain calm under pressure, especially in a crisis. Continue to grow and develop. Learn and better yourselves. Build trust, and earn the respect of others."
RADM Alfultis read a congratulatory letter from MARAD to the graduates and expressed the pride he felt in knowing that students continued with and completed their degree programs despite the pandemic. "Thank you for choosing to work in this important vocation and serve your country," he said.
Friends and family were pleased to witness the occasion, watch all the graduates receive their diplomas and most importantly, take photographs to mark the milestone event.   
Congratulations to the Class of 2021!
View the Spring Commencement 2021 photos on Flickr.