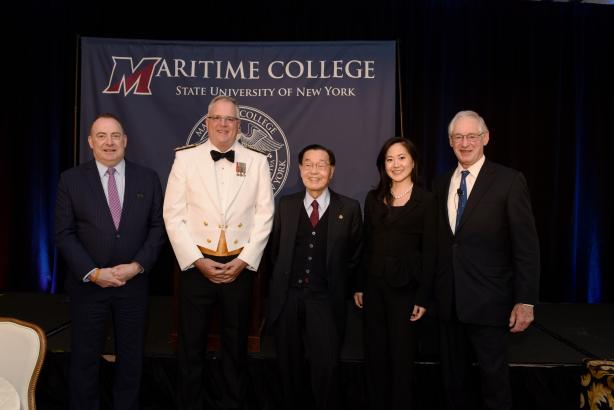 $800,000 raised for scholarships to support next generation of maritime leaders
SUNY Maritime College honored Dr. James S.C. Chao, Angela Chao and Joseph Byrne '89 at its annual Admiral's Scholarship Dinner May 1 and raised a record $800,000 for scholarships.
The three dinner honorees were Dr. James S.C. Chao is founder and honorary chairman of Foremost Group. Angela Chao, daughter of Dr. Chao, is current chairman and CEO of Foremost Group. They are the first father-daughter team to be recognized with this honor at the dinner. The third honoree, Joseph Byrne '89, is vice president and senior operations manager of Turner Construction. Foremost Group and Turner Construction, both headquartered in the United States, were also recognized at the dinner.
The dinner was attended by more than 650 SUNY Maritime College alumni and friends, with Maritime Administration Administrator Rear Adm. Mark Buzby joining as a distinguished guest. Rich DuMoulin, chairman of the Seamans Church Institute, served as the event's master of ceremonies.
"We were deeply grateful to have such a distinguished group of honorees, guests and alumni at this year's event," said Rear Adm. Michael Alfultis, president of Maritime College. "Their support not only provides significant scholarship funding to attract the best and brightest students, it also helps demonstrate the vital and deep connections between the college, its faculty and students, and the industry that we serve. Thanks to these leaders of industry, our students make a meaningful mark on their chosen fields. At the same time, leaders of the maritime industry get to meet the industry's future leaders – our students."
Dr. James S.C. Chao – Founder and Honorary Chairman, Foremost Group
An American of Chinese descent, Dr. James S.C. Chao founded Foremost Group in New York in 1964, and today it is one of the most respected global shipping companies. Foremost has one of the youngest and most environmentally friendly shipping fleets in the world. It is an industry leader recognized for its superior management and performance. Dr. Chao has received numerous awards for his professional accomplishments and philanthropy. For his lifetime contributions, Dr. Chao was inducted into the U.S. International Maritime Hall of Fame at the United Nations. Dr. Chao and his late wife Ruth Mulan Chu Chao have dedicated their lives to promoting education and philanthropy. Thousands of students have been awarded scholarships through their generosity. The Chao Foundation's Mulan Educational Scholarship Fund helps students from the National Taiwan Ocean University pursue graduate degrees at SUNY Maritime College.
Dr. Chao commented, "It has long been my belief that acting with honor, integrity, and professionalism are critical to success and the foundation of any meaningful relationship – whether business or personal. I am proud that Foremost Group has so deeply embodied these principles in our work, which enabled our continued leadership in the global shipping industry. Like the lessons I learned at a young age, SUNY Maritime College plays a vital role in educating the next generation of maritime leaders. It is a true honor to receive this recognition and on behalf of my family, I thank you all for your dedication to this vital industry and look forward to continued partnership in the years ahead."
Angela Chao – Chairman and CEO, Foremost Group
Before succeeding her father as chairman and CEO of Foremost Group, Ms. Chao was vice president of Foremost Group, concentrating on ship operations and ship management, and then promoted to senior vice president of the company, adding chartering, and sale and purchase to her responsibilities. Prior to that, she was assistant vice president where she implemented Foremost's Safety Management System to comply with the International Safety Management (ISM) Code, a new regulation mandated by the International Maritime Organization (IMO), which came into effect for large bulk carriers in 1997, whose objective was to ensure safety, to prevent human injury or loss of life, and to avoid damage to the environment and property that was a result of various marine accidents. She has since also implemented the fleet's Vessel Security Plans in compliance with the IMO's International Ship and Port Facility Security (ISPS) Code, a comprehensive set of measures to enhance the security of ships and ports, developed in response to the 9/11 attacks in the United States.
As chairman and CEO of Foremost Group, Ms. Chao is one of just a handful of female executives in the maritime industry. Prior to joining Foremost Group in 1996, Ms. Chao worked in the mergers and acquisitions department of Smith Barney, now Morgan Stanley Smith Barney.
Among many industry activities, Ms. Chao serves on the Board of the American Bureau of Shipping Council and the Massachusetts Maritime Academy's International Maritime Business Department Advisory Board.
Ms. Chao earned an M.B.A. degree Harvard Business School after receiving her undergraduate degree in economics from Harvard College, where she graduated magna cum laude in three years. Born in the United States, Ms. Chao also speaks Mandarin and lives in New York City.
Ms. Chao commented, "This recognition means the world to my family and me. Since founding Foremost Group in 1964 with my mother, the late Mrs. Ruth Mulan Chu Chao, my father has been an outstanding leader in the shipping industry. He has taught us all the value of hard work and dedication and that doing what is right by our customers and the environment is always what's right for Foremost Group. The SUNY Maritime community is well known for its excellence in our industry and we are proud to accept this honor as we work with you to help the next generation prepare to lead the maritime industry forward."
Joseph Byrne – Vice President and Senior Operations Manager, Turner Construction
During his career at Turner, Joseph Byrne '89 has worked on construction projects for Madison Square Garden, the Whitney Museum of American Art, the Hearst Tower and Yankee Stadium. A veteran, he leads Turner Construction's Veteran GiveBack Network and related volunteer programs at the Bronx VA Medical Center. An active supporter of his alma mater, Byrne has recruited students for full-time and internship positions at Turner for years. Turner Construction employs more than 40 Maritime College graduates.
Joseph Byrne commented, "Turner builds huge facilities; these buildings and hospitals are ships that don't move. Maritime students excel because they have the hands-on experience, leadership training, and the engineering programs. Alumni choose to give back to the school, which helps the admiral and the college to recruit the best and the brightest. Everyone in this industry wants to get Maritime students into our companies."
ABOUT SUNY MARITIME COLLEGE
Combining classroom and lab learning with summer sea terms aboard the college training ship and industry internships, SUNY Maritime College prepares its 1,800 students to be leaders in the shipping, transportation and power generation industries, as well as in government, military and business. The 55-acre campus is on a peninsula between the Long Island Sound and East River, 30 minutes from midtown Manhattan. Find out more at www.sunymaritime.edu.
ABOUT FOREMOST GROUP
Foremost Group is an American shipping company with offices in the United States and Asia. Founded in New York in 1964 by Dr. James S.C. Chao and his late wife, Mrs. Ruth Mulan Chu Chao, the company today is a global leader in the dry bulk shipping industry and has earned a worldwide reputation for its commitment to exceptional service and performance and the highest ethical standards. Learn more: www.ForemostGroupUSA.com
ABOUT TURNER CONSTRUCTION
Turner is a North America-based, international construction services company and is a leading builder in diverse market segments. The company has earned recognition for undertaking large, complex projects, fostering innovation, embracing emerging technologies, and making a difference for their clients, employees and community.
With a staff of 8,000 employees, the company completes more than $15 billion of construction on 1,500 projects each year. Turner offers clients the accessibility and support of a local firm with the stability and resources of a multi-national organization. Learn more: www.turnerconstruction.com.