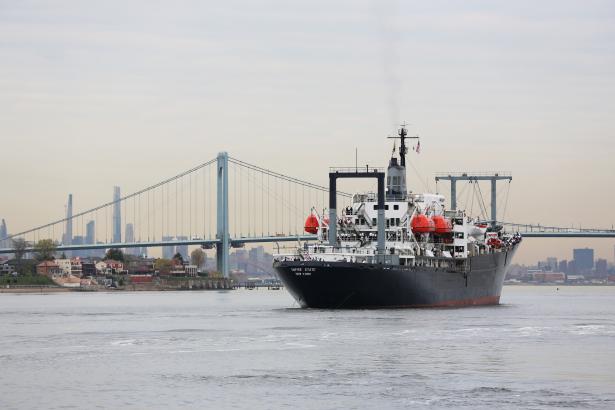 Tuesday, April 27, marked the day students from the Regiment of Cadets departed Olivet Pier for the first Summer Sea Term since 2019. All cadets on board the Training Ship Empire State VI were fully vaccinated, many having received their vaccine at Yankee Stadium through a partnership with SOMOS Community Care. Key members of SOMOS Community Care were at Olivet Pier to proudly sendoff cadets on their long-awaited training at sea. SOMOS Community Care Founder Dr. Ramon Tallaj was pleased with the turnout of Maritime College cadets at Yankee Stadium stating, "We are community doctors who serve the community and we have worked nonstop since March vaccinating throughout New York City."
Due to the pandemic and subsequent federal restrictions, the Empire State VI was unable to sail for its annual Summer Sea Term in 2020. The administering of vaccinations for cadets and the ship's crew enabled Maritime College to safely conduct two 67-day terms at sea this summer. Over 500 students were on board the training ship from April 27 – June 25 for the first half of the sea term. Port visits for this cruise include Charleston, SC; Fort Lauderdale, FL; and San Juan, PR. A second 67-day term will depart on July 1. "We appreciate and thank the NYS Governor's Office, SUNY Chancellor Jim Malatras and SOMOS Community Care for the role they played in helping to protect and vaccinate our cadets and crew while on Summer Sea Term," stated RADM Michael Alfultis.
The onset of the COVID-19 pandemic and cancellation of the 2020 Summer Sea Term had an enormous impact on cadets who needed to participate in a summer program. Administration of vaccinations will allow over 800 cadets to successfully complete their training at sea requirement and obtain U.S. Coast Guard licensure this July. Through Summer Sea Term, cadets travel around the world gaining vital hands-on experience in operating a ship and dealing with port traffic. Cadets sail aboard the Training Ship Empire State VI, a 565-foot, steam-powered vessel that serves as a floating lab during the school year.
A video of the ship's departure is available for view here.
View photos of ship departure on Flickr.
View News12 The Bronx coverage/story of the ship's departure.