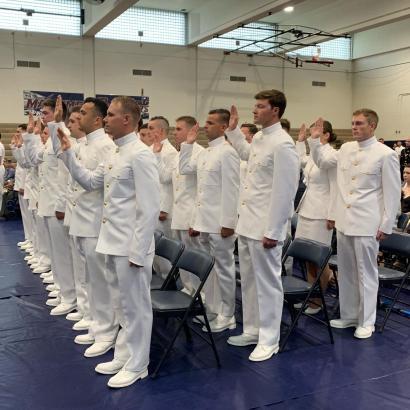 The choice to serve in the armed forces is not one that an individual makes lightly. Students who seek to serve in this capacity at Maritime College have an opportunity to enroll in the College's NROTC program. The program educates and trains qualified young men and women for service as commissioned officers in the U.S. Navy or U.S. Marine Corps, and through the program, students may elect to commission as a reservist or active duty officer.
In a special Commissioning Ceremony that took place on July 9, as the first of the day's Commencement celebrations, 26 Maritime College cadets took their oath and received their commission to serve in the U.S. Navy or U.S. Navy Reserve. As a newly Commissioned Officer, Ryan Condon will join the Steamship Authority in Cape Cod, MA as an able seaman. "I always knew I wanted to join the military and serve my country. The people I've met, the connections I've made and the bonds I shared with others during the program made this a great experience for me," he stated.   
Ensign William Joyce joined the program to advance his career, as well as serve his country. "I enjoyed the physical training. The courses were helpful and showed me the importance of structure, and I feel better prepared for my career after being in this program," he said. Joyce will go on to join the International Organization of Masters Mates & Pilots (MMP).
Ensign Stephen Hargrade is proudly following in his family's legacy of service as a newly commissioned officer. Both of his parents were commissioned officers in the U.S. Navy. His grandfather and great grandfather were commissioned officers in the U.S. Army. Hargrade will attend nuclear power school in Charleston, SC with the goal of one day becoming a submarine warfare officer. "I wasn't planning on going into active duty, but when the opportunity presented itself, I chose to do so. Now I'm excited and anticipating the future."
During the Commissioning Ceremony, RADM Michael Alfultis address the commissioned officers saying, "As naval officers, embrace the challenges that lie ahead as an opportunity to continue to grow as leaders. Congratulations to each of you, and thank you for choosing to serve your country."
View the Commissioning Ceremony photos here.