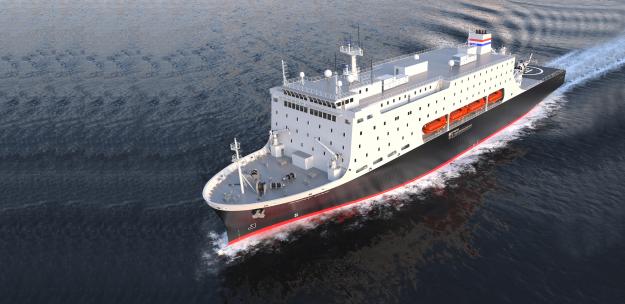 Fabricating the first nsmv
After years of conceptualizing, discussing, collaborating, planning, letter writing, meeting, advocating and testifying before Congress in Washington, D.C., December 15, 2020 marked a historic day for Maritime College. The long-awaited steel cutting ceremony arrived and fabrication of the first National Security Multi-mission Vessel (NSMV) was officially underway heralding a new class of training ships designed to serve a dual purpose: supporting merchant mariner education and assisting with humanitarian/disaster relief.
On December 10, 2021 the keel was laid on the grand block in a special ceremony that took place in Philadelphia, PA. December 10 is significant in the history of Maritime College as it was on December 10, 1874 that the USS St. Mary's was commissioned to serve as the first training ship for the New York Nautical School (which later became Maritime College).
Maritime College awaits the delivery of the vessel in 2023. Its arrival will greatly impact Maritime College and future mariners of generations come.
A Historical Perspective
This perspective of the NSMV is a comprehensive timeline that highlights key dates, partnerships and other pertinent information, all of which led to the fabrication of the nation's first NSMV, the new training ship assigned to Maritime College.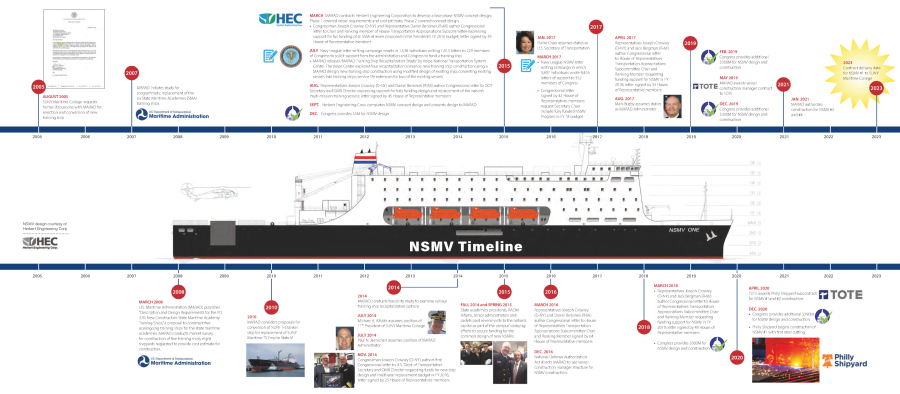 Interactive Timeline
View the timeline and images more closely here.
Construction 
Construction began with the steel cutting at Philly Shipyard in December 2020, and the milestone Keel Laying Ceremony took place on December 10, 2021. This video, released on January 11, 2022, commemorates the fabrication and keel laying of the first NSMV, the Empire State VII, and its significance to the history of Maritime College. January 11, 2022, marks the 148th year (January 11, 1874) of the admission of the first students (26 cadets) to the New York Nautical School and their embarkation on the first Training Ship, USS St. Mary's. The day also represented the beginning of a federal-state partnership in which the federal government provided training ships for future mariners at the state maritime academies.