International Transportation and Trade 
The Global Business and Transportation Department at the State University of New York Maritime College has been awarded the status of Candidate for Accreditation by the International Accreditation Council for Business Education (IACBE) located at 11374 Strang Line Road in Lenexa, Kansas, USA. For a listing of the degrees eligible for accreditation click here.

Learn about business 30 minutes from the center of the business world and in one of the busiest port cities in the country.
International Transportation and Trade at Maritime is a business program that gives you special insight into finance, logistics, economics and law through the lens of the global economy, and shipping and transportation industries.
As an ITT major, you will visit ports and company headquarters, and many of your professors are industry leaders. You will also have the chance to transfer seamlessly into the Master's in International Transportation Management program through the fast-track program.
Academic Program
Courses in the International Transportation and Trade program focus on accounting, economics, law, logistics, supply chains, risk management, operations and security.
Offered by the Department of Global Business and Transportation, the program also offers a month-long summer study abroad program. In trips around Europe and Asia, you will gain special insight into some of the cultures of the world and international business practices and customs.
Internship Opportunities
As an ITT major, you will apply what you learn from your professors through two professional internships. Our students have completed internships with:
Most students choose to complete internships the summer between junior and senior years. The Office of Career Services can help you find an internship, and you must receive approval from the department before you begin work.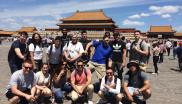 Study-Abroad Opportunities
The department offers a month-long study-abroad program, to either Europe or Asia. In the program, you will get an up-close and in-depth look at global trade, transportation and logistics; meet industry leaders; and gain insight into foreign cultures through visits to cultural sites. 
Fast-Track Master's Option
Undergraduate students who qualify can apply for the fast-track master's program, which allows them to take master's-level courses during their senior year in place of senior-level courses.
The program allows you to get a jump-start in earning either of Maritime's master's degrees:
Master of Science in Shipping and Logistics through the Department of Global Business and Transportation

Master of Science in Maritime and Naval Studies through the Department of Humanities
Graduates of the ITT program have gone on to work for: